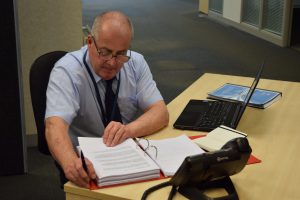 Whether it is your first Bronze audit, or a Bronze re-approval audit, help ensure you pass the first time by avoiding the most common reasons for failing an audit.
The table below highlights the top four most common reasons for failure at audits and provides tips on how to avoid these:
Reason for failure

Tips and guidance

Make sure you are able to demonstrate that you have…

D4 – Professional development

Drivers not completing one FORS Professional safety eLearning module within the past 12 months
Drivers not completing the FORS Professional Security and Counter Terrorism eLearning module within the past 24 months
Managers not completing approved training within the past five years
Not producing a Professional Development Plan (PDP) for all staff

Provided evidence that at least 90 per cent of drivers have completed the mandatory training set out at Annex 1 of the FORS Standard
A Professional Development Plan (PDP) in place that includes the names of ALL drivers and all other staff involved in the fleet operation

Top tips

Training undertaken can be demonstrated by accessing the FORS Professional training register and downloading the CSV file which lists all qualified personnel. If you want to use the Training dashboard to evidence how you meet this requirement, make sure you read the full guidance within the dashboard so that you submit accurate training records
The PDP and completed training can be evidenced in the same document. Certificates can also be provided at audit to demonstrate that mandatory training has been completed

M8 – Health and Safety

Not providing evidence of a Health and Safety policy
Not providing all the risk assessments or method statements

Provided evidence of a valid Health and Safety policy
Provided evidence of all risk assessments or method statements listed in the demonstration for M8 on page 13 of the FORS Standard

Top tip

Use the M8 Checklist to ensure you have covered all mandatory risk assessments

V1 – Serviceability and roadworthiness

Not providing a policy to inspect, service and repair vehicles, trailers and specialist equipment
Not providing a maintenance planner that shows all planned maintenance for a minimum of six months in advance, including failure for holders of Operator Licences to provide copies of all safety inspections and other legally required documentation
Not monitoring maintenance requirements for operators of leased van fleets and relying solely on the service provider

Provided a copy of a policy which meets the demonstration for V1 listed on page 17 of the FORS Standard
Provided evidence of a maintenance planner which shows all planned maintenance events for a minimum of six months in advance
Planned safety inspections which correspond with the maintenance schedule of Operator Licence holders. Operator Licence holders must also provide evidence of signed maintenance agreements if vehicle maintenance is carried out by an external service provider. All maintenance records reports shall be retained for the periods defined at M1 of the FORS Standard

Top tips 

Ensure that any third-party service provider used supplies service records in a timely manner
For Operator Licence holders, make sure you follow the DVSA guidelines for planned maintenance as required in the Guide to maintaining roadworthiness

V2 – Daily walkaround checks

Not providing evidence of a robust defect reporting procedure
Not providing evidence that reported defects are being repaired

Provided evidence of your daily walkaround and defect reporting system covering all vehicles, trailers and other equipment which meets the demonstration for V2 listed on page 19 of the FORS Standard
Provided examples of completed defect reports, including those where defects have been reported, rectified and signed to confirm completion

Top tip

Make sure you can produce copies of nil defect reports – these must be retained for the periods defined at M1 of the FORS Standard
Top tips, along with other useful information to help you prepare, book, and pass the FORS Bronze audit, can also be found in the FORS Audit Toolkit.
Bronze on-site audits resumed following a pause due to the coronavirus pandemic. However, in order to minimise the risks of transmittal of COVID-19 and until further notice, FORS is placing obligations on auditors, audit providers and the organisation receiving the audit. Members whose accreditation has expired, or is expiring, are encouraged to book and undertake their Bronze on-site audits as soon as possible providing they are able to follow the FORS COVID-19 rules and requirements and relevant government guidelines.