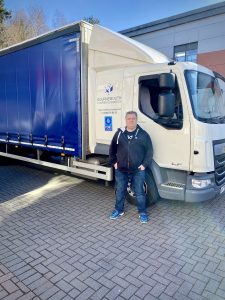 FORS Practitioner training has been credited with dramatically reducing fuel costs for Bournemouth Courier and Logistics, as its Director qualifies as the 2,500th FORS Practitioner.
Edward Wateridge, Director and Transport Manager at Poole-based haulier Bournemouth Courier and Logistics, has recently become the 2,500th FORS Practitioner to qualify, meeting the highly respected industry standard for road transport management training.
Speaking of the qualification, Edward Wateridge said his FORS Practitioner status has helped his business improve efficiency working practices, especially in relation to driver behaviours and fuel use.
Edward Wateridge said, "FORS Practitioner training ensures that the person responsible for best practice is able to instil that philosophy throughout every aspect of the business.

"For us, the Safe and Efficient Fleet Management and Reducing Fuel Use and Minimising Environmental Impacts FORS Practitioner workshops have had the most impact. We have reduced our engine idling dramatically and improved driver behaviour, which has had a positive effect on the environment, and also on our bottom line."
FORS Practitioner status is granted following completion of a  series of ten detailed workshops designed to help operators meet the requirements of FORS, and embed best practice within an organisation, to deliver tangible safety, environmental and commercial benefits.
The ten workshops, currently delivered online and open to all FORS members, provide a complete package of fleet management learning, including managing work related road risk, safe and efficient fleet utilisation, reducing fuel use and minimising fines and charges.
Edward Wateridge notes, "We now look more closely at the environmental aspects of our business, and how we can improve on them. We  monitor three key areas of driver behaviour; engine idling, vehicle speed and harsh braking, and review this information monthly to see how we have reduced fuel wastage and learn how we can continue to improve."
Bournemouth Courier and Logistics fulfils logistics services specialising in same day and next day movement of goods throughout the UK and internationally, via a mixed HGV and van fleet. The organisation runs a highly-successful storage and warehousing operation, from its base in Poole, Dorset, and has been FORS accredited since May 2017, progressing through the voluntary accreditation to become FORS Silver members.
Edward Wateridge notes that the progressive nature of FORS appeals to the ethos of this growing business.  He said, "We originally joined FORS thanks to customer requirements as we delivered goods to some of the larger developments in London. It is important for us to maintain these high standards, to be able to meet our business goals and customer expectations across the UK and even internationally.

"I believe you can never stand still in life or business. You need to strive to better yourself with continuous development, and then install that same ethos across your business."

He adds, "Having FORS Practitioner status will help us have a more positive impact on the environment and maintain our  positive interactions with other road users."

Sonia Hayward, FORS Manager said, "Congratulations to Edward on becoming the 2,500th FORS Practitioner.  The FORS Practitioner qualification offers real value to our members, helping their business to achieve their efficiency and safety goals, which in turn raises standards for all. We are extremely pleased to hear Bournemouth Courier and Logistics is seeing this value transferred into tangible business benefits."