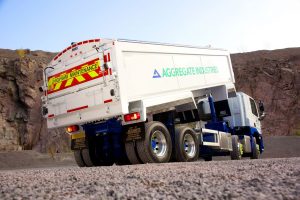 Aggregate Industries, one of the UK's leading suppliers to the construction industry, has partnered with FORS, the Fleet Operator Recognition Scheme, to ensure its sub-contractor fleet attains benchmark levels of operational best practice.
With a timetable for completion set for March 2018, the partnership programme will see over 600 sub-contractors achieve a minimum of FORS Bronze accreditation, and, with it, prerequisite levels of safety, efficiency and environmental protection.
While FORS Bronze accreditation is already proven to deliver commercial benefits through greater efficiency, Aggregate Industries' is further incentivising its subcontract fleet by making a financial contribution of 20% of the annual FORS subscription cost.  The discounted price for operators is effective immediately. Furthermore, successful FORS Bronze audit passes – and subsequent annual audits – will ensure sub-contractors will not be subject to Aggregate Industries' own internal audit procedure, thus cutting operators' downtime. The company has also produced its own 'How to…' Guide, which provides guidance on registering with FORS and the accreditation process.
Aggregate Industries seeks continuous improvement in transport operation standards, which is why it will support its subcontractors to gain FORS Silver accreditations in the future, as the next step in leading industry best practice.
Gerard Cantwell, Head of Procurement & Logistics at Aggregate Industries, said, "FORS and Aggregate Industries share a common goal in our commitment to drive-up standards in the road transport sector. With FORS delivering a thorough audit process supported by a full range of training packages for drivers and managers, our sub-contractors can only benefit from an even greater focus on safety, efficiency and environmental practice. Importantly," he said, "our entire road fleet will be aligned with FORS best practice credentials."

FORS Director, John Hix, said, "Driving FORS throughout a major supply chain is a great ambition. With so many synergies between ours and Aggregate Industries' aim for safer, more efficient commercial vehicle operations, it was a logical move to introduce a FORS methodology as an integral part of the company's fleet policy. We'd like to work with others to do the same," he said.

"Our comprehensive suite of FORS training packages, practical aids and advice, allows operators to focus on fleet utilisation, safe in the knowledge that their vehicles and drivers are operating to the highest levels of safety, efficiency and environmental protection."