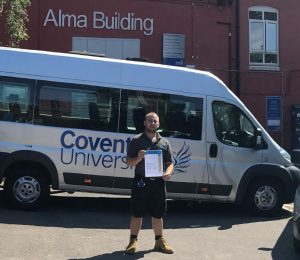 Coventry University has become the first 'seat of learning' in the UK to achieve membership with FORS, the Fleet Operator Recognition Scheme. The University's FORS Bronze accreditation, attained early in July and shortly after FORS reached its 5,000th member milestone, applies to its fleet of 26 vans, two fleet cars and a single minibus.
The news is further evidence of FORS' scope and reach as organisations beyond the transport sector realise the benefits of best practice when applied to their transport activities – regardless of the nature of their business or their fleet make-up.
For Coventry University, the need to benchmark its own fleet safety mindset was key when identifying FORS as a best practice partner.
"Our vehicle fleet is at a size now where we needed to introduce an operational standard," said Stephen Beasley, Coventry University's Grounds and Distribution Manager, "something to which we could benchmark our vehicles and especially our drivers. Quite simply, the requirements laid down by FORS provided us with a logical, manageable pathway to best practice."

"We recognise that transport isn't our 'raison d'être'," he said, "but our vehicles carry our livery, and it's very important that our excellent reputation in the education sector is represented out on the road and in front of the wider public."

With FORS Bronze membership now in place, Coventry University has stated it will explore the great many training opportunities available through the FORS Professional training portfolio, with a view to progressing to FORS Silver accreditation.
FORS believes Coventry University can blaze a trail for further educational institutions, and other organisations outside of the transport industry, to introduce FORS best practice into their supply chains.
"We're very excited to see Coventry University become the first FORS Uni and to adopt FORS best practice into its management infrastructure, ," said FORS Director, John Hix, "I believe it will pave the way for other universities to consider their own transport arrangements – many, like Coventry, with sizeable numbers of vehicles.

"Moreover," he said, "it shows the scheme has grown beyond its traditional transport-sector roots, proving that it can offer tangible benefits to any organisation that is serious about increasing safety, boosting efficiency and promoting care for the environment."