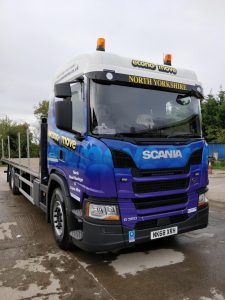 North Yorkshire based delivery company, Economove, has increased safety measures and performance on its vehicle fleet to gain FORS Gold, the highest level of the national  accreditation.
FORS, the Fleet Operator Recognition Scheme, is a voluntary scheme open to any company operating commercial vehicles anywhere in the UK or overseas. Its remit is to drive-up standards in the road transport industry with respect to safety, efficiency and environmental protection. 
FORS is progressive, with members beginning at entry-level FORS Bronze, before moving up to Silver and finally Gold, the highest level of FORS accreditation. 
Economove, based in Thirsk, is a family run business, headed-up by Directors Debbie Barker and Nick Douglas. The business' primary contracts see its fleet deliver steel to  construction sites across London, usually with time critical deliveries. For nearly four decades, the company has managed a broad range of vehicles, from vans and sprinters to HGVs and crane mounted trucks, that can carry up to 14 tonnes. 
FORS Gold accreditation has ensured Economove's thousands of annual deliveries have been carried out safely and efficiently.  Debbie Barker, Economove Director said, "We made the decision six years ago that if we were going to carry on delivering into central London and other city centres we should join FORS, as we know its programme is essential to help us maintain our high standards and keep our drivers and other road users safe." 
Economove has invested in staff training and has strengthened with FORS, with all drivers undertaking the FORS Safe Urban Driving course, which includes a practical module where drivers ride bicycles to experience urban roads from the point of view of vulnerable road users. 
Alongside investment in its staff, Economove has substantially upgraded its fleet, installing front, rear and nearside cameras to improve safety and increase driver awareness. To reduce its environmental impact Economove has also replaced older, less efficient vehicles with newer Euro VI models which are more environmentally efficient. 
Debbie Barker said: "FORS has been vital in helping us improve the safety of our fleet and the training of our drivers to ensure we can demonstrate a high level of professionalism and quality to all our current and prospective customers. 

She added, "The day we got our FORS Gold accreditation was a proud day."

Sonia Hayward, FORS manager said: "Congratulations to Debbie and the team at Economove for gaining FORS Gold accreditation. Their achievement is a mark of commitment to improved safety and environmental protection, which they can indeed be very proud of."