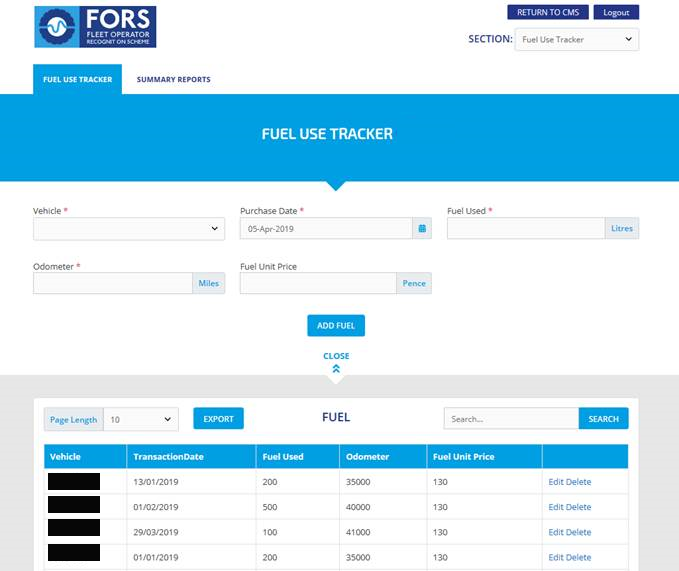 Some 1,000 fleets across the UK are taking advantage of operational savings and lowered emissions, gained through use of FORS fleet management packages.
FORS Fleet Tools and FORS Fleet Management System (FORS FMS) are both available exclusively to FORS members in collaboration with FleetCheck.
Both systems provide FORS members with tools they can use to demonstrate how they are meeting the specific environmental, safety and efficiency requirements set out in the FORS Standard – with each offering differing levels of data and analysis, depending on user need.
And their popularity is growing. FORS FMS, a subscription-based service which draws on live data sources to consolidate fleet management data such as fuel cards, telematics and driver records, launched in 2018, and currently registers analysis on 9,193 FORS member vehicles and 9,274 drivers.
In addition, the free to use FORS Fleet Tools portal provides members with a range of data management tools and has also enjoyed high engagement. Since its launch in 2019, some 988 users have accessed the system to identify areas for improvement across their fleet – equating to 8,054 vehicles and 4,589 drivers.
Both systems are created in collaboration with FORS Affinity Partner FleetCheck and are designed to help operators collate the specific fleet management data needed to fulfil the requirements at each level of the FORS progressive accreditation.
FORS FMS offers a huge array of data management benefits and functionality to fleet managers.  Its comprehensive data platform provides online document storage, with an information portal and an advanced reporting suite. Its intuitive traffic-light system alerts users to primary calendar events such as MOTs, service intervals, driver training and licence checking, and 'O' Licence criteria is also managed.
FORS FMS also includes an app for mobile devices; an electronic version of the manual vehicle inspection process, making it easy for drivers to carry out routine vehicle inspections, including photo-capability to report defects and to expedite maintenance requirements – all imported to a FORS FMS account to provide complete transparency.
FORS Fleet Tools includes a fuel tracker to record and monitor fuel usage, miles per gallon, CO2 levels and efficiency improvements, a penalty charge notice tracker to monitor and manage potential incidents and help members reduce the number of penalties received, and an incident tracker to record, track and monitor incidents involving drivers or vehicles, including service and roadworthiness and road traffic collisions.
Paul Wilkes, FORS Business Services Manager said, the success of these tools is down to the simplicity of the systems, despite the complexity of the data they manage. Wilkes says, "Measuring and monitoring an entire fleet is the most accurate way for our members to identify efficiency and safety improvements as well as evidencing how these have been implemented through FORS. It is also the swiftest route to understanding the cost savings efficiencies will bring.

"Both FORS FMS and FORS Fleet Tools provide members with a simple portal to collect and integrate essential data, helping them gain, and retain, FORS accreditation. The easier we can make it for busy fleet managers to record this data, the better, so we are really pleased the fleet management tools we offer are meeting this need."

Peter Golding, FleetCheck's managing director, added, "Both FORS FMS and FORS Fleet Tools help fleet managers move on from standalone spreadsheets and paper-based monitoring, instead providing them with an online system that can be accessed via an internet connection from where ever the fleet manager is working to turn their data into accurate reports and drive efficiency across their business."