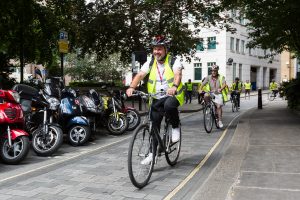 FORS  is offering funded places on a selection of its driver specific training courses, to help FORS members upskill their driving workforce.
The free-of-charge training places, exclusive to FORS members, will be available on a selection of FORS driver training courses.  The spaces are being funded to help FORS members fulfil the training requirements set out in the FORS Standard, and to aid progression through the FORS tiered accreditation.
FORS is offering the free places on key FORS Professional training courses due to be held across the UK in the coming months. Places are available on mandatory FORS Safe Urban Driving, Van Smart, and LoCITY Driving courses, with each place allocated on a first come, first served basis.
Sonia Hayward, FORS manager said, "At Silver, the FORS Standard requires drivers to undertake training on road risk and the safety of vulnerable road users every five years.  At Gold, drivers must undertake training on reducing fuel consumption and vehicle emissions, also every five years.

"Safe Urban Driving and Van Smart meet the FORS Silver professional development requirement, and LoCITY Driving meets the FORS Gold professional development requirement. In addition, each course is seven hours in duration and is Driver CPC accredited, which is helpful for drivers ahead of the CPC deadline in September."
Funded places will be available on FORS Professional Safe Urban Driving, in which commercial HGV drivers experience urban driving from the point of view of vulnerable road users such as cyclists, with each participant completing a practical cycling module. For light commercial vehicle drivers, places are available on Van Smart which also offers practical vulnerable road user training.
FORS Professional LoCITY Driving, winner of the  prestigious Education in Transport award at the 2017 National Courier Awards, also has funded places available. The course focuses on minimising the environmental impact of vans and HGVs by reducing emissions through the use of pre-journey planning and vehicle checks, fuel-efficient driving, and alternative fuels.
Sonia Hayward added, "We are happy to be able to support our members by funding these FORS Professional courses, which will not only help drivers with their professional development, but also help operators with improving their safety and environmental standards."
For more information about becoming a FORS member, click here.