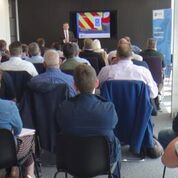 FORS is hosting a bespoke briefing session specifically to update its members based in Bristol.
FORS – the Fleet Operator Recognition Scheme – Regional Briefing is due to take place in Bristol, on 6th November, and is part of a series of national events, staged to give members from each region the opportunity to engage with the FORS team, learn about its latest developments and ask questions.
FORS is a voluntary accreditation scheme for companies operating any type of commercial vehicle anywhere in the UK or overseas. It promotes a singular ambition to drive-up standards in the road transport industry with respect to safety, efficiency and environmental protection. FORS members are encouraged to progress from FORS Bronze through to FORS Gold accreditation.
The Bristol event will give members more information on the introduction of the new FORS Standard version 5 document – which sets out the requirements FORS members must meet in order to achieve and maintain FORS accreditation. The new FORS Standard was launched at the FORS Members' Conference on 16th October and is due to be implemented in January 2019.
The briefing is part of a series of events held at key locations across the UK over the summer with a further six locations, including Bristol, hosting events this autumn. When the series completes in November, briefings will have also been held in Crumlin NI, Cardiff, Glasgow, Newcastle, Manchester, Birmingham, Peterborough, London, and Edinburgh.
Graham Holder, FORS Head of Quality Assurance and Compliance said, "Regional Briefings give FORS the chance to discuss key updates with members face-to-face. With the launch of the new FORS Standard this event gives members the opportunity to hear about the key changes to the Standard, and ask any questions affecting their operation."

James Lewis, from Connect Scaffolding Ltd, who attended the first series of briefings, commented, "FORS continues to develop and improve the way in which it is managed, and how it communicates to its members. The Members' Regional Briefing is a welcome addition to this process providing a forum for gaining clarification and enabling feedback directly to the FORS Compliance Team."

Michael Davies, from TDR Transport Services Ltd, added, "Attending FORS briefings should be compulsory for all members to keep up to date with required standards. Unlike many other briefings, they are not geared around 'sales', purely informative. I look forward to the next one."