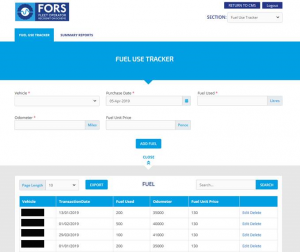 FORS is pleased to announce the launch of FORS Fleet Tools – a free online information system to help members accurately collate and manage fleet related data.
FORS Fleet Tools will provide FORS operators with a hassle-free, consistent platform to demonstrate how their fleets are meeting the specific environmental, safety and efficiency requirements set out in the FORS Standard.
Created in collaboration with FORS Affinity Partner FleetCheck, FORS Fleet Tools is free to access for FORS members and contains a range of toolkits to help operators collate the specific fleet management data needed to fulfil the requirements at each level of the FORS progressive accreditation.
FORS Fleet Tools will also help FORS members identify areas for improvement across their fleet and monitor their progress through the FORS Bronze, Silver and Gold accreditation levels as they strive towards even greater efficiency, environmental and cost-saving goals.
Toolkits contained within FORS Fleet Tools include:
A fuel tracker to record and monitor fuel usage, miles per gallon, CO2 levels and efficiency improvements.  Monitoring fuel use is required at all levels of FORS accreditation, and members are able to access the toolkit relevant to FORS Bronze, Silver or Gold requirements*
A penalty charge notice tracker to monitor and manage potential incidents and help members reduce the number of penalties received**
An incident tracker to record, track and monitor incidents involving drivers or vehicles, including service and roadworthiness and road traffic collisions***
FORS Fleet Tools offers the ability to upload, store and submit FORS Silver and Gold evidence. Paul Wilkes, FORS Business Services Manager said, "Improving safety, boosting efficiency and safeguarding the environment are the guiding principles of FORS. In order for our members to raise standards and improve efficiencies, they must measure and monitor their whole fleet.

"FORS Fleet Tools makes this task simple, allowing members to upload their data for all vehicles in their fleet, enabling them to monitor and analyse whole fleet performance helping them to become more efficient as they progress through the levels of FORS accreditation."