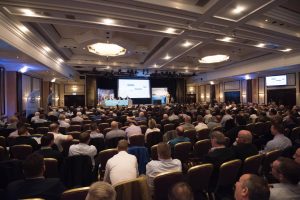 In response to demand from its members, FORS, the Fleet Operator Recognition Scheme, has confirmed it will host a 2018 FORS Members' Conference later this year – on Tuesday 16th October – the third annual staging of what is now a key event in the transport industry's events calendar.
Swift feedback from delegates and exhibitors following last October's conference signalled a clear mandate for another event, thus prompting an early announcement from FORS in confirming a date for 2018.
The FORS Members' Conference will once again benefit from its central location at the National Conference Centre in Solihull. The same venue last year hosted 400 delegates, many playing an active role during a full day of keynote presentations, Q&As and special 'surgeries', while at the same time enjoying incentives and discounts provided by FORS Associates within a dedicated exhibition zone.
"The call for another FORS Members' Conference has been unequivocal," said FORS Director, John Hix, "the response from conference goers was immediate and wholly positive," he said, "and we had little doubt that an announcement to confirm a third event would be forthcoming sooner rather than later. I'm very pleased to be able to make that call now.
"Our theme last October, 'Compliance: what does it mean to you?', obviously resonated with delegates," he said, "provoking passionate debate in the conference room while reinforcing the key FORS messages of safety, efficiency and environmental protection. We will expect a similar fervent conference this year."
After two highly successful conferences, FORS continues to earn a reputation for delivering an insightful, well-organised forum for debate, while attracting influential organisations and key individuals from across the transport sector.
Further details including headline sponsors, conference speakers, theme of the day and a full agenda for the FORS Members' Conference 2018, will follow.