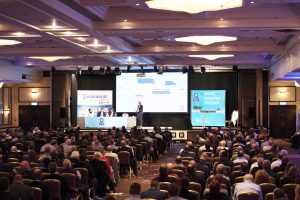 This week the fourth annual FORS Members' Conference saw a packed hall of 450 delegates explore how the voluntary accreditation scheme can lead to safer, smarter, greener operations.
The FORS Members' Conference is now a pivotal annual fixture in the road transport industry, and this week's event did not disappoint. A full day of interactive debate and striking presentations engaged FORS members attending from across the UK.
The one-day event at the National Conference Centre in Solihull featured interactive polls and audience question and answers throughout, with speeches from major industry stakeholders including Highways England, Kier, Michelin and Rexel.
This year's conference theme Safer, Smarter, Greener reflected the triple purpose of FORS accreditation, and its ongoing commitment to help its ever-growing membership base to lessen their environmental impact and in turn, help reduce costs.
BigChange director Jo Godsmark, who is also an active member of the CILT (Chartered Institute of Logistics and Transport) Outsourcing and Procurement Forum, took to the helm as host of this year's event.
Jo Godsmark is also chair and a trustee of the international Transaid charity, which FORS supported at the conference. FORS matched attendee contributions, raising over £1,000 at the conference, to support the charity's work providing much needed training and transport to communities across Africa.
Speaking at the event, Jo Godsmark said, "With 95 per cent of collisions caused by human error, and growing concerns over air quality issues, there is still a lot we need to do. Everyone in the room today recognises this and continues to work towards improved road safety and environmental protection."
Second generation smart tachographs, tyre pressure monitoring, and the switch to app-based fleet management tools were just a handful of topics explored as the event shone a light on how technology is able to provide the industry with the tools it needs to drive efficiency for environmental benefit.
Professor Geoff Clarke from AECOM explored the role of alternative fuels in a panel discussion with Graeme Neagus from Renault Trucks UK, alternative fuel consultant Martin Flach and Brian Robinson from the Low Carbon Vehicle Partnership.
A poll conducted during the session showed that 19 per cent of the participating audience members already had an electric vehicle (EV) as part of their current fleet make up.
Professor Geoff Clarke said, "'Greener' has always been part of FORS via fuel management, tyre management, aerodynamics, and eco driving, but today when discussing 'greener' it is also appropriate to look at vehicles and the choice many members will be facing in coming months."
While the long-term future of road transport featured strongly at the event, so too did the need for operators to look after the long-term health of their workforce.
Natalie Geraghty, head of customer and communications at Kier Highways, discussed the need for operators to understand the importance of driver mental health. She said, "When it comes to mental wellbeing, we shouldn't be competitive, we should be sticking together – just as we do with safety. We should all be tackling these difficult issues in the same way."
Along with the full presentation programme, visitors could access a unique exhibition of 36 FORS Associates and four FORS Affinity Partners, showcasing products or services designed to help members meet the requirements of the FORS Standard and assist in driving-up industry best practice, with headline sponsor FORS Associate Tachograph analysis software specialists Aquarius IT taking centre stage.
Karla Harding, head of quality and compliance at Simply Waste Solutions, a FORS Bronze member said, "This is our first time at the FORS conference, and I am deeply impressed by the focus on efficiency and innovation. It feels like the industry is really trying to improve itself and that FORS is playing a key role in this. We will definitely be coming back."

John Hix, FORS director said, "The FORS Members' Conference is our opportunity to welcome a large cross-section of our members from across the UK and explore in detail some of the pressing issues facing them as operators from diverse fields.

He added, "Safety is always at the heart of FORS, and we know our members are fully committed to achieving and maintaining safety standards far beyond the legal minimum requirements. We hope the event has really emphasised to our members the importance of greater efficiency to help reduce emissions and deliver climate protection."