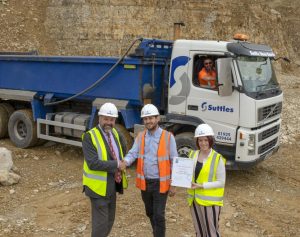 Membership of FORS, the Fleet Operator Recognition Scheme, has reached a major milestone this week after the Dorset-based quarry operator and aggregates merchants, J. Suttle Transport, became the scheme's 5,000th member.
FORS this year has already recognised its 1,000th FORS Silver and its 250th FORS Gold members. Together with J. Suttle Transport, total FORS membership today represents over 112,000 trucks and vans throughout the UK and overseas.

"It's a proud day for the FORS team, and all our members too," said FORS Director, John Hix, "for everyone, in fact, who is connected with FORS and has worked tirelessly over the last ten years to drive-up standards in the road transport sector. I can say confidently that there are 5,000 operators who are more efficient and more protective of the environment as a result of their FORS accreditation. But, above all," he said, "I know we have made our roads safer; safer for operators, safer for drivers, and safer for vulnerable road users and the wider public."
The landmark confirms FORS as the UK's leading best practice accreditation scheme; offering a comprehensive range of member benefits. Through a process of continual development, FORS has developed a comprehensive portfolio of training materials accessible to members through the FORS Professional training programme. Content is regularly updated to ensure drivers and managers receive the very latest particulars on compliance, legislation and best practice.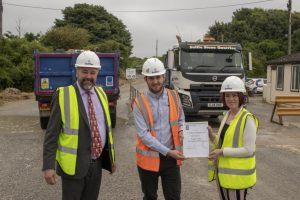 For J. Suttle Transport, FORS Bronze accreditation signals clear intent from the tipper operator to continue to embrace best practice and to improve all aspects of its operation. The company runs a fleet of 13 eight-wheel and six-wheel tippers and flatbeds, along with 16 vans.
"We were very pleasantly surprised when FORS told us we had become such a notable milestone marker ," said John Suttle, Director at J.Suttle Transport, "but more remarkable is the realisation that so many operators are reaping the benefits of FORS best practice. We've always adopted an attitude where safety is the priority," he said, "and we're looking forward to improving fuel economy and running a more sustainable fleet – all contributing towards greater productivity and a more efficient operation that will minimise our impact on the environment."

He added, "We have a great team that is already achieving the demanding best-practice requirements in the quarrying, construction, and rail contractor industries. We want to further extend best practice into our transport operation which is vital to our business – and FORS is a key component. Achieving FORS Bronze," he said, "is our first step on the road to operational excellence, and we are committed to progressing through the next stages."