FORS Professional training has launched two, one day courses for FORS accredited operators looking for clear guidance on how to reduce the number and severity of road traffic collisions.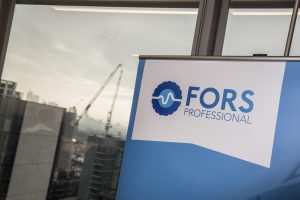 The classroom sessions form part of a new collision management training package, which includes a toolkit, training, and eLearning, and has been developed in collaboration with multiple industry stakeholders to provide valuable insight into managing road risk. Designed to provide practical, effective and logical solutions for managing, reporting, investigating and monitoring road traffic collisions, the package aims to minimise transport related incidents.
The toolkit, developed by Transport for London (TfL), recommends defining management responsibilities, including the appointment of a Road Risk Champion, and appointing a Collision Investigator to oversee the implementation of collision investigation processes. A Road Risk Champion course, delivered by FORS Professional, is available for managers implementing policy, processes and procedures across an organisation. FORS Professional is also providing a Collision Investigator course, suitable for those who need to be equipped with investigatory knowledge and skills, such as duty managers.
An additional nine funded courses have been made available for each role, running until March 2018, and offered free of charge to FORS accredited operators. The first dates were incredibly popular and the new dates are expected to fill up fast. These will be delivered by highly experienced trainers who have practical "hands on" experience of investigating collisions at the roadside and with the necessary follow up internal investigative actions.
Sonia Hayward, FORS Operations Manager, said, "The collision management toolkit is a comprehensive guide to help operators understand how to put in place a strategy to reduce collisions, and what to do in the circumstances when they occur. The package looks to produce a default solution that meets the collision reporting requirements of FORS, CLOCS and TfL's contractual WRRR clauses."
"Requirement O3 of the FORS Standard states that fleet operators shall ensure that incidents, collisions and reported near-misses are documented, investigated and analysed, as a way of informing the fleet operator of any actions required to minimise future recurrence. These training courses will equip managers with the skills to implement a strategy successfully."
For more information, or to book onto a course, see here: https://www.fors-online.org.uk/cms/collision-management-training/