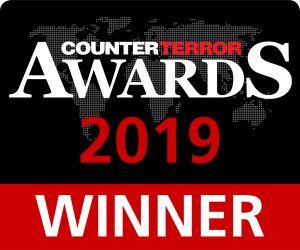 The FORS Security and Counter Terrorism eLearning module has gained national recognition for its contribution to education in road transport, winning the Counter Terrorism Education Project Award at the Counter Terrorism Awards 2019.
At a ceremony in London on Tuesday 5 March, the FORS Security and Counter Terrorism eLearning module, which was commissioned by Transport for London (TfL) in 2017, won the Counter Terrorism Education Project Award for its role in raising awareness of security and terrorist threats, specifically in terms of theft of vehicles or loads and the use of vehicles as weapons.
The Awards seek to acknowledge excellence in the global fight against terrorism, with organisations and individuals from the UK and overseas recognised across 20 categories. Winners were announced by former Defence and Home Secretary Lord John Reid, who held seven cabinet positions between 1997 and 2010 under Prime Minister Tony Blair.
The eLearning module, which is free to access for FORS members, has so far been completed by over 47,000 individuals. It was developed in response to the rise of commercial vehicles used in terrorist-related incidents and in conjunction with major stakeholders including TfL, the Department for Transport (DfT), the Metropolitan Police, High Speed 2 and the Driver and Vehicle Standards Agency (DVSA). Individuals must undertake the module as a mandatory requirement at FORS Bronze, the entry level of the FORS accreditation process.
Speaking after the ceremony, Peter Binham Principal City Planner at TfL said: "Collaborative working across public bodies, the police, Government and industry is essential for keeping our communities safe. Our partnership with FORS on the introduction of counter terrorism measures is a great example of this and we are delighted that our joint efforts have been recognised by this award."
As stipulated in the FORS Standard version 5, which came into effect in January 2019, individuals must undertake training every 24 months on personal and vehicle security and the potential threat of terrorism.
So far more than 47,000 individuals across 5,100 FORS operators have completed the 20-minute Security and Counter Terrorism eLearning module, which forms part of the FORS Professional training portfolio.
Sonia Hayward, FORS Operations Manager, said, "Unfortunately, the threat of terrorism is present in our everyday lives, with the potential use of commercial vehicles by terrorists posing a specific risk. We are therefore very keen to raise awareness among FORS members to help them minimise the risk of their vehicle being used as a weapon."

"The success of this training is in no small part due to the collaborative approach with which it was designed. FORS worked closely with TfL, the Met Police, the DfT and many other major transport stakeholders to ensure our members have access to the most relevant information, and we are grateful for the support of all agencies involved."