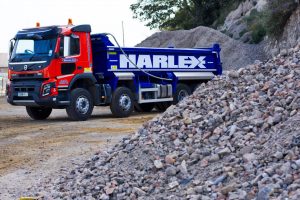 Rochester truck company, Harlex Haulage Services has proved its continued commitment to improving its safety performance and reducing vehicle emissions to gain FORS Gold accreditation – the highest level of the Fleet Operator Recognition Scheme (FORS). 
FORS is a voluntary accreditation scheme, open to any company operating commercial vehicles anywhere in the UK or overseas.  Its remit is to drive-up standards in the road transport industry with respect to safety, efficiency and environmental protection.  
The scheme is progressive, with members beginning with entry-level FORS Bronze, before moving up to Silver and finally Gold, the highest level of FORS accreditation. 
The family run business which is based at Park Pale, Rochester, has operated for close to two decades and drives a fleet of industrial vehicles, including tippers and grab trucks for clearance, excavation and delivery purposes.
As the majority of its work requires precision operations in busy urban areas, safety is a top priority, and Harlex Haulage has proved it always puts safety first by choosing to become a member of FORS. The company has reached FORS Gold, the highest level FORS accreditation, thanks to its continued commitment to the evolving FORS Standard, and its long-standing efforts to improve safety on the roads around Kent and beyond.
Richard Gagg, Harlex Haulage Services Director said, "Staff safety, and the safety of other road users is paramount to us. Our long-standing investment and commitment to FORS has hit the mark, giving  us the peace of mind that comes with knowing we have the right policies and procedures in place to be as safe as possible." 
Reaching FORS Gold accreditation comes after Harlex Haulage underwent a period of significant investment, with a complete makeover to upgrade their operating centre and multi-bay workshop with new equipment to meet and exceed MOT standards and manage a proactive preventative maintenance programme.
The company has used the extensive training FORS offers to help develop both its drivers and operational staff, leading to efficiencies in operations and fuel use.
Richard Gagg said: "FORS confirms a way of working that promotes safety and efficiency. We have been able to see the benefits of both monitoring our business and developing our drivers, with the continued investment in driver training and better fuel monitoring resulting in better control of these important environmental and business element."

He added, "FORS is a great benchmark to give our customers confidence that we are operating as efficiently and safely as we can."

John Hix, FORS Director said: "Congratulations to Richard and the team at Harlex Haulage Services for gaining FORS Gold accreditation.  Progressing through the scheme and attaining the highest standard shows commitment and a desire to change working practices and put safety first. The whole team should be extremely proud of its success."