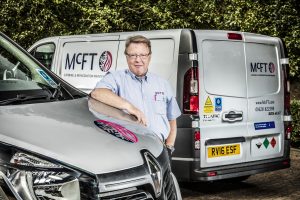 Maidenhead-based van operator, McFarlane Telfer (McFT), says it is 'gunning for FORS Gold' after becoming the first LCV operator to attain Silver accreditation with FORS, the Fleet Operator Recognition Scheme. The refrigeration and catering equipment maintenance company goes on to say that 'FORS Gold is now firmly in its sights'.
McFT earned its FORS Silver accreditation in 2014 and has since embraced a FORS mindset throughout its operation, and its wider supply chain.
FORS also announced recently that haulier Neville Tilley Transport became the 500th overall FORS Silver member. This in turn followed the news just weeks earlier of FORS signing-up its 4,000th accredited member in total – haulier, Cargo Express in Birmingham.
With a fleet of over 50 vans, McFT has been a FORS member for four years, placing great emphasis on its responsibilities to other road users. CEO, Chris Craggs, says, "As our fleet grew, we quickly realised we have an obligation to other road users, and the best way to demonstrate that is to achieve ever higher levels of best practice. We're gunning for FORS Gold now."
"As well as reducing accidents and incidents, FORS lifts the game" he says, "the safety levels and the high standards of operation we aspire to are exemplified by FORS. FORS Gold is now firmly in our sights," he adds.
FORS has now established itself as the transport industry's 'go-to' accreditation scheme for best-practice. Its 4,000-strong membership comprises commercial vehicle operators of all types – from parcel carriers to European haulage fleets – and represents vehicles across the full spectrum of types, from vans and LCVs right up to premium duty articulated trucks, and heavy-haulage units.
FORS has also just released its FORS Standard (version 4.0). The latest update is clearer, easier to understand and contains more specific guidance on how FORS applies not only to trucks, but also to vans and to PSVs. The FORS Standard is reviewed and updated on a two-yearly cycle, and covers pathways to FORS Bronze, FORS Silver and FORS Gold accreditation.
Developed and approved by the FORS Governance & Standards Advisory Group (GSAG) – a collective of leading operators and industry bodies from across the transport sector – the new FORS Standard 4.0 represents all the latest regulatory updates, additions and amendments.
Watch Chris Craggs, McFarlane Telfer testimonial video to hear what he has to say about his experience with FORS.