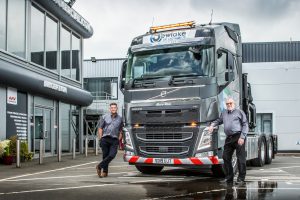 Despite being a new business, Bewlake Lift and Haul Ltd decided to build FORS into its company fabric from the very beginning and the small operator is already reaping the benefits.
Bewlake Lift and Haul is a specialist crane-mounted haulier based in Ballycastle, Northern Ireland. The business began trading in June 2019, yet from the outset owner-driver Mike Blake chose FORS accreditation to give his business a competitive edge.
Mr Blake, who grew up around trucks in his father's haulage company said building his own business around FORS accreditation from the very start has meant he can offer customers more. He said, "I knew I wanted the business to have a specialist offering but was also aware that we needed FORS in order to show contractors that despite our small size, we operate to high safety and efficiency standards."

"We have won work from GAP-Group Ltd among others, purely on the back of our FORS accreditation. Contractors need to ensure specialist work can be completed to a high standard, and our FORS accreditation proves we have such capabilities, even though we are a small business."
The Bewlake Lift and Haul crane-mounted HGV includes enhanced vehicle safety equipment with blind spot cameras. From FORS' point of view, this safety equipment is only a requirement for operators with HGVs at FORS Silver level, so is over and above what was required of the company for its current FORS Bronze status.
For Mike Blake, FORS progression is part of his long term goal for the business, aiming to move to Silver as soon as possible: "More and more contracts are specifying FORS at Silver level, certainly for work in and around London, so it makes sense to ensure we can reach that level, and even higher – we have our eyes firmly on FORS Gold."

Peter Morrow, FORS Manager, Northern Ireland, said it is a common misconception that FORS is not for smaller operators. He said, "Some operators believe FORS is only for larger businesses, yet the majority of fleets run and managed by our 5,000 FORS members comprise fewer than 10 vehicles."

"While it is often the case that larger transport operators have a greater resource to put towards accreditation, FORS has been tailored to meet the diverse needs of our wide membership base.

FORS has a structured fee range depending on the number of vehicles in service, and members can access a wealth of information online, which is of particular use to support smaller operators on their route to accreditation. It is great to see operators such as Bewlake reaping the benefits of FORS accreditation and we look forward to supporting Mike and the team on the road to Gold."
For more information about FORS accreditation visit: https://www.fors-online.org.uk/cms/