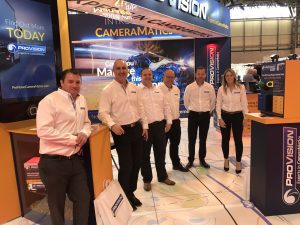 FORS, the Fleet Operator Recognition Scheme, is pleased to announce ProVision as its headline sponsor for this year's FORS Members' Conference.
The 2017 conference will focus on compliance and expects to see nearly 400 FORS members congregate in Birmingham for the now-annual gathering.
ProVision, the leader in CameraMatics solutions for commercial fleets, is a long-time FORS Associate and will also be exhibiting at the event as well as demonstrating its new Fleet Risk Assessment Tool, designed to help fleet managers assess compliance gaps and the risk associated with running their fleet. The tool also provides advice and guidance on improving vehicle and driver safety.
Mervyn O'Callaghan, MD for ProVision adds, "ProVision believes that safety and compliance technology should not be just for those buying modern vehicles, but should be accessible to fleets of all sizes, all vehicle types and ages. This is perfectly aligned with FORS's mission and so we are delighted to sponsor the FORS Members' Conference and take a leading role in promoting the importance of fleet and driver safety."

"ProVision has already been actively supporting FORS as an Associate for some time, and has taken a leading role in sponsoring a number of our workshops across the country, so it is great to have them taking such an important role in this year's conference," said Paul Wilkes, FORS Business Services Manager.