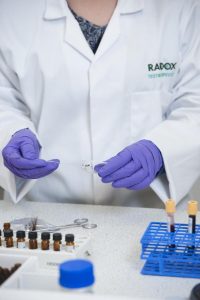 Randox Testing Services has become the latest FORS Associate, offering its bespoke drug and alcohol testing services to the extensive FORS membership base at discounted rates.
Crumlin-based Randox Testing Services is a fast-growing drug and alcohol testing provider and a market leader in the diagnostics industry with over 35 years' experience and over 1,500 expert staff. The company works with a range of safety-critical industries, including road transport, across the world. It provides gold-standard workplace drug and alcohol testing solutions that can be tailored to the individual requirements of each business.
FORS Associates products and services align with the FORS principles of safety, efficiency and environmental protection. Each FORS Associate offers discounts to help members meet the requirements of the FORS Standard.
As a FORS Associate, Randox Testing Services will offer its expertise at an exclusive rate, providing reliable testing to help FORS members maintain the highest professional standards for drivers, and uphold their responsibility to other road users.
Mark Campbell, Business Manager at Randox said, "A robust testing regime is vital to maintaining professional standards for all fleet drivers, and we will now be able to offer support to FORS members throughout the driver testing process, from conducting the tests, to crafting a workplace policy and implementation plan."
Randox Testing Services provides specially trained personnel to conduct testing and manage samples to both ensure the process is as fair and un-intrusive as possible and minimise disruption to operators' normal working patterns.
Mark Campbell added, "We are very much looking forward to working with FORS to assist FORS members in maintaining a safe workplace, in order to uphold their duty of care to staff and other road users, and, importantly, to instil a sense of consumer confidence in their services."

Paul Wilkes, FORS Business Services Manager said "The safety of the members of the public who share the roads with professional drivers is one of the key principles of FORS. Effective drug and alcohol testing is crucial to ensuring commercial vehicle drivers are fit and able to meet the highest possible safety standards. We are delighted to welcome Randox Testing Services as a FORS Associate. Its services will help our members accurately test drivers to ensure their safety commitments to staff and other road users are upheld."
For more information about Randox Testing Services, and other FORS Associates, visit: https://www.fors-online.org.uk/cms/suppliers/.