Roger Bullivant Limited (RB), the UK's leading foundation engineering company, says its investment in a new Euro-6 van fleet was motivated by its membership of FORS, the Fleet Operator Recognition Scheme. RB has taken delivery of a batch of 21 Ford Transit Customs in a programmed delivery of 100 vehicles.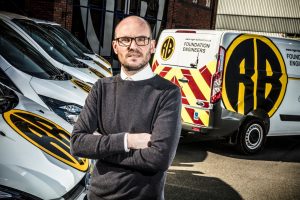 The company gained FORS membership at its first operating base in 2012 after being awarded Bronze accreditation to suit contractual obligations for its heavy trucks on large construction projects.
"Most large-scale construction projects, especially in London, demand FORS accreditation," says RB Fleet Manager, Anthony Franklin, "and for good reason. The safety of our drivers and vulnerable road users is of paramount importance, and FORS takes a firm yet sensible approach to safeguarding all concerned. FORS training is the key,"
"Our new van fleet will go a long way toward bringing safety, efficiency and environmental benefits," adds Franklin, "but, behind it all, the FORS best practice message comes across loud and clear to anyone involved within our transport operations".
The FORS-assigned Transit Custom fleet, supplied through RB's group company, Vinci plc, is spec'd with 70mph speed-limiters, parking sensors, passenger air-bags, air-con and telematics.
Anthony Franklin is also a FORS Practitioner; meaning he has successfully completed all nine FORS Practitioner workshops – free to FORS members – covering all aspects of fleet operation, including work related road risk, managing driver fitness and health, fuel economy, minimising fines and charges and developing fleet management policy. Among the many benefits of FORS membership, Franklin claims his FORS Practitioner status has proved the most valuable tool for himself personally, and for the management of the RB fleet.
"The FORS Practitioner workshops are, for me, the jewel-in-the-crown of the FORS benefits offering," says Franklin, "the course presenters were very well-grounded in the latest changes to compliance and were able to deliver an engaging series of workshops sessions. But it went further than that," he says, "I found that simply being in a room with like-minded fleet professionals stimulated a raft of ideas for boosting my own fleet performance. And I'm sure the shared best practice will have benefitted my fellow course delegates, too."