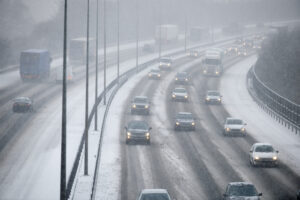 FORS is reminding members to put best practice at the very front of mind, as increased seasonal traffic volume and inclement weather increase safety risks on UK roads.
FORS, which is dedicated to ensuring best practice in respect to operational safety and efficiency is shining an even brighter light on safety this month, as the increase in seasonal retail traffic following Black Friday (26 November) meets a decrease in temperatures, making roads more hazardous.
FORS voluntary accreditation has some 4,900 members across the UK and Europe, representing commercial vehicles of all types, from taxis and vans to buses, coaches and heavy goods vehicles. FORS is urging these members to plan ahead for the busier and colder months and ensure vehicles and drivers are ready for winter.
John Hix, FORS Director says, "Black Friday is now set in stone as the start of an increasingly busy time for commercial vehicles of all types, with online retail increasing demand on delivery trucks vans, cars and two-wheelers. It is also colder and darker, and therefore increasingly challenging in terms of road safety.
"FORS members receive robust training – for both drivers and management – throughout all stages of our progressive model to ensure safety is paramount. We also provide a range of additional online resources to reinforce this learning, and we are encouraging members to take advantage of these materials, to remind the road transport workforce of the dangers of winter driving."
The FORS Winter Driving Guide is one such document. The guide, which can be downloaded from the FORS website, lists key safety tips for drivers during the winter period, to draw attention to the challenges of inclement weather.
It includes tips to help drivers mitigate against adverse changeable weather, with forward planning being the first step. The guide suggests drivers plan their route, seek up-to-date travel information and complete additional safety checks prior to any journey, along with advice on which equipment to carry and suitable clothing.
As well as preparation, the guide includes tips on how to drive in snow and ice, heavy rain, strong winds, flooded areas, and fog and is designed to help FORS members meet the vehicle safety equipment requirements of the FORS Standard.
The FORS Vehicle Safety Equipment Guide is also downloadable from the FORS website and is designed to ensure members vehicles are fitted with the correct safety equipment as required at each stage of FORS accreditation, Bronze, Silver or Gold. It provides guidance on which equipment should be used, advice on the specification that this equipment should meet and who can provide this equipment.
John Hix says, "FORS central mandate is to offer guidance, support and tools to help keep our workforce safe and reduce risks to vulnerable road users. At this busy time we hope our members will use these resources to keep safety at the very front of mind, to help improve safety on our roads for all."
The FORS Winter Safety Guide and the Vehicle Safety Equipment Guide can be downloaded from the FORS website here.