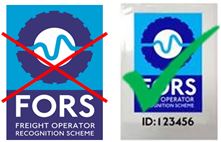 FORS would like to remind operators that if you are displaying the FORS logo you must use the version which incorporates your FORS ID number and your accreditation status of bronze, silver or gold. Usage of the generic logo without the FORS ID or which incorporates the Transport for London logo ceased on 30 April 2015.
Clients specifying FORS through contracts have been advised only to require FORS logos which includes the unique ID. Failure to display the right logo may result in rejection from site as it is a misrepresentation of the FORS logo, referenced in Section 2.7 of the FORS Standard.
Your FORS logo showing your unique FORS ID and accreditation level is available to download free of charge as a print ready image.
To download your logo, please log in to the FORS evidencing system – your username is the email address registered with us. If you can't remember your password, please use the "forgotten password" function. Once you are logged in, go to the bottom of the page and click on the button to access your logos. FORS logos are only available for use by FORS accredited companies.
If you have any queries, please contact the FORS helpline on 08448 09 09 44 or email enquiries@fors-online.org.uk