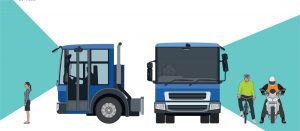 HGVs not holding a permit for driving within the Direct Vision Standard (DVS) area, or in contravention of permit conditions, will now be issued a £550 Penalty Charge Notice (reduced to £275 if paid within 14 days) for each day the vehicle is driven within the DVS area.
Additionally, heavy vehicles including lorries, buses, coaches and specialist vehicles, will need to meet Euro VI emissions standards or pay a daily charge to drive within London's Low Emission Zone (LEZ). TfL has put a three-month grace period in effect for vehicles that have a confirmed booking with a CVRAS-approved fitter for an approved retrofit solution. During this grace period, these vehicle owners will not need to pay the LEZ daily charge if driving in the zone. Vehicle owners planning to use the grace period need to notify TfL.
Please be aware that:
The DVS operates in the same area as the existing LEZ
The DVS uses a star rating system to rate HGVs based on how much a driver can see directly through their HGV cab windows, ranking from zero star (the lowest level of direct vision) to five stars (highest level of direct vision)
To qualify for a permit, HGVs will require a minimum of a one-star rating. Vehicles rated zero star will only be granted a permit if they are fitted with 'safe system' measures
The permit scheme will operate 24 hours a day, every day of the year
The permit is free to obtain
To find out more about DVS, click here. To find out more on London's LEZ, click here.