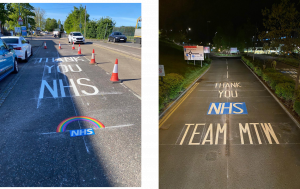 To support the nation's appreciation for the NHS during the pandemic, FORS Silver member Roadmarking Excel Ltd has transformed the roads by applying 'Thank you NHS' markings at Maidstone Hospital and Tunbridge Wells Hospital at Pembury. The work was carried out on behalf of Maidstone and Tunbridge Wells NHS Trust.
Additionally, they have been working alongside Volker Highways outside Chatham Maritime Hospital and have completed essential line marking works at the Nightingale NEC Birmingham.
Roadmarking Excel Ltd, a leading independent specialist in road marking and white lining throughout the South East of England, has been offering its services free of charge for each of these projects.
Roadmarkings Excel Ltd is grateful to Thermmark for supplying the NHS rainbow preforms free of charge.