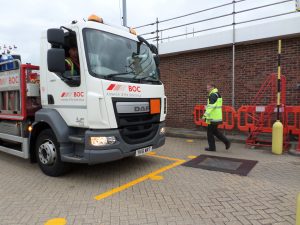 FORS Bronze member BOC has completed the UK rollout of an innovative driver safety process which ensures external mirrors are aligned for each individual driver before they start their shifts.
Devised and trialled at BOC Crawley, the system consists of a series of markers painted onto the tarmac which must be visible to the driver through their external mirrors when parked at the mirror station.
Each morning the transport manager checks all vehicles have mirror alignment before exiting the site. Other checks are carried out at the same time including monitoring the vehicle load for loose debris, verifying on-board camera alignment and checking lights.
On approach to the mirror station, drivers are required to turn on all lights including cab mounted beacons and fog lights. This process is in addition to the defect checks already completed by the driver and allows enough time for the bulbs to come up to temperature, a point where potential blowouts are most likely to occur.
Terry Callan, BOC transport manager said: "The system has allowed us to prevent PG9s as a result of vehicles going out on to the road with defects unknown to the driver. It gives me full confidence that my fleet is roadworthy."
Since introducing the mirror station in 2015, BOC Crawley has seen a 69% decrease in vehicle incidents from 16 to 5 and slow speed manoeuvring incidents, slight bumps and knocks have significantly reduced. This delivered a 44% saving in repair bills in the first 12 months of operation.
Implementing a procedure of this kind can help demonstrate FORS requirements such as V2 Defect check, V7 Vulnerable road user safety and V9 Vehicle manoeuvring.
If your company has implemented a system to help improve the operation of your fleet, we would be very pleased to hear from you. Please call the helpline on 08448 09 09 44 or email enquiries@fors-online.org.uk.
BOC is the UK's biggest industrial, medical and special gases company, serving more than 300,000 customers from 100+ sites across the UK and Ireland. A member of the Linde Group, BOC makes more than 5,000 deliveries every day and currently has 15 Bronze accredited operating centres and over 300 FORS accredited vehicles.