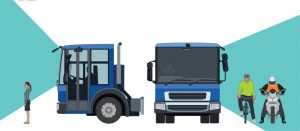 Transport for London (TfL) has launched the next phase of consultation on a new Heavy Goods Vehicle (HGV) Safety Permit as part of the Mayor of London's Direct Vision Standard (DVS).
The DVS forms part of London Mayor, Sadiq Khan, and TfL's Vision Zero approach to reducing road danger. The DVS categorises HGVs on the level of the driver's direct vision from the cab.
The proposed permit scheme would require HGVs over 12 tonnes to hold a Safety Permit to operate in London from 2020.  The permit could include safety systems such as sensors, visual warnings and comprehensive driver training.
For full details and to share your views, please click here. This consultation will run until 24 January 2018.