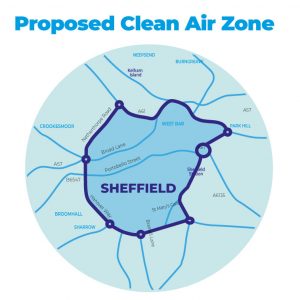 In an effort to improve air quality, Sheffield City Council has begun a consultation for its class C Clean Air Zone. The Clean Air Zone is set to be launched in 2021.
High polluting vehicles including HGVs, taxis, vans, buses and coaches will pay a daily charge to enter the zone which will be located within the city's inner circle. However, private cars will not be charged under these proposals.
 
Proposed daily charge
Criteria for exemption
Taxi
£10
Ultra-low emission or LPG
Van
£10
Euro 4 Petrol
Euro 6 Diesel
Bus and coach
£50
Euro VI Diesel
HGV
£50
Euro VI Diesel
Private car
No charge
All vehicles
Air pollution contributes to 500 deaths a year in Sheffield, which currently has illegal levels of air pollution. To tackle this issue, the council is inviting businesses and city residents to take part in a 'clean air conversation'.
To learn more on the Clean Air Zone consultation, click here.