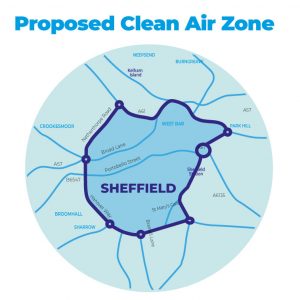 Sheffield City Council has joined a number of other cities in delaying its decision on the final clean air plans until after it has a better understanding of the impacts of COVID-19. In addition, the council has confirmed that it will consider alternative approaches to charging non-compliant vehicles within the city centre as part of its contribution to the Clean Air Zone review.
Sheffield City Council said the situation was now very different compared to when it first developed its proposals in 2018. The global coronavirus pandemic has led to a drop in air pollution of up to 33 per cent in January to August of this year compared to the same period in 2019. This is in addition to putting many businesses and jobs under unprecedented levels of stress due to the economic impacts of the pandemic.
Tom Sutton, Head of Policy and Representation at Sheffield Chamber of Commerce said: "Given the changed circumstances as a result of COVID-19, it is right to look again at the best way to improve air quality across Sheffield. We welcome the review into the alternative ways we could meet the required air pollution reductions. We look forward to working with the Council to think through the impacts that COVID-19 has had on business, transport and travel patterns, and how we can address air quality without placing an undue burden on local businesses, many of who, are facing unprecedented challenges."
Sheffield's Clean Air Zone was set to be launched in 2021, with high polluting vehicles including HGVs, taxis, vans, buses and coaches paying a daily charge to enter the zone located within the city's inner circle.
Read the full statement from Sheffield City Council, here.