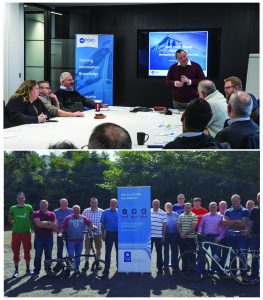 There are now more opportunities than ever for members to access FORS Professional training in Northern Ireland with both Safe Urban Driving (SUD) courses and FORS Practitioner workshops being held.
There are still a few places available on the next SUD course, taking place in Ballymena on Saturday 21 October at Leighinmohr Hotel. Two FORS Practitioner workshops will also be held in Crumlin on Wednesday 1 November at Transport Training Services NI Limited. The day will consist of Workshop 1 – Developing Fleet Management policy  and Workshop 2 – Managing work related road risk.
SUD consists of two 3.5 hour modules, one classroom based and one practical module. The theory module focuses on sharing the road safely and highlights the vulnerability of other road users. It also explains how urban streetscapes are evolving to encourage more walking and cycling. During the practical module drivers get on bikes to experience a cyclist's view of the road. This aims to give drivers a cyclist's perspective of riding on busy roads and an understanding of the issues faced by vulnerable road users.
SUD is mandatory at Silver level as set out in requirement S5 Vulnerable road user safety training. However all drivers, regardless of their company's membership level, are welcome to complete the training as it is of benefit to all transport professionals.
FORS Practitioner workshops are designed to provide a thorough grounding in best practice for commercial vehicle operators. Topics in the workshops include developing road transport policy, safe and efficient fleet management, and monitoring and measuring road fleet performance.
For more information on the SUD course, and to book a place, please click here.
For more information on FORS Practitioner courses, please click here. To book a place on workshop 1, please click here, and on workshop 2, please click here.