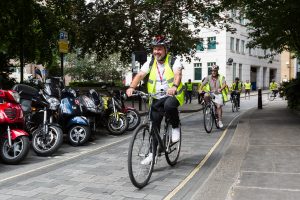 In order to support FORS members during the coronavirus pandemic, FORS introduced a temporary relaxation in May for meeting the work-related road risk (WRRR) professional development requirement S5 for FORS members wishing to progress to Silver or renewing their Silver accreditation.
This means that until further notice from FORS, members will be able to pass the WRRR training requirement by undertaking the theory part only of Safe Urban Driving (SUD) or Van Smart (VS), with the practical on-cycle element undertaken by the time of the following yearly Silver re-approval audit.

All FORS funded driver training is currently offered as remote learning only.  The Driver and Vehicle Standards Agency (DVSA) will not allow the upload of Driver CPC hours for SUD and VS as the remote theory part and on-cycle element will be more than 24 hours apart. Some training providers approved to deliver FORS Professional driver training offer both remote and classroom training.
To book a place on FORS funded driver training, click here. To book a place with  training providers licensed to deliver FORS Professional training, check the FORS Approved page.