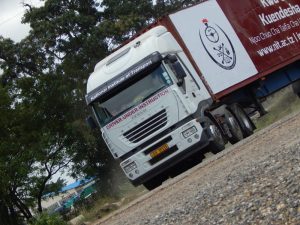 Transaid, the charity which aims to transform lives through safe, available, and sustainable transport is appealing to UK dealers, manufacturers and operators for a second-hand tractor unit and trailer to help support its new driver training project in Uganda.
The tractor and trailer would be used for training hundreds of new commercial vehicle drivers every year to ensure Ugandan drivers can meet the needs of the oil, gas and related sectors.
Neil Rettie, Transaid's Road Safety Project Manager, said: "We are ideally seeking a 6×2 or 6×4 tractor unit with a large high-roof sleeper cab, sufficient to comfortably accommodate an instructor and three students. We're quite used to removing sleeper bunks to facilitate additional seating inside the cab – the key thing is ensuring it's got sufficient leg room to make a conversion possible, plus ideally a flat floor or minimal intrusion from an engine tunnel."
For more information or to send any offers of assistance, please contact Jade Ashby on 020 7387 8136, or email jade@transaid.org.