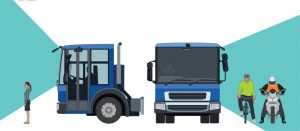 TfL has released initial direct vision star ratings for Euro VI HGVs as part of the proposed Direct Vision Standard (DVS) draft. The Mayor of London, Sadiq Khan, launched the DVS to improve the safety of road users, particularly vulnerable road user groups.
The star system rates HGVs from zero (lowest) to five (highest) based on how much HGV drivers can see directly from their cab, as opposed to indirectly through cameras or mirrors.
Under the proposals 'zero star rated' HGVs would be banned or restricted from London's roads by 2020, and only HGVs rated three star and above would be allowed into the capital from 2024.
The plans are part of steps being taken to directly tackle the amount of cyclist and pedestrian deaths caused by HGVs.
For more information on the proposed DVS, please visit TfL's website here.
Some preliminary truck ratings can be found on the Safer Trucks website, here.