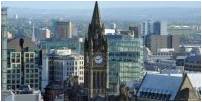 Transport for the North (TfN) is set to break new ground with the creation of the UK's first pan-regional freight and logistics strategy , designed to create the integrated transport network that the logistics sector in the north needs to drive growth and create jobs.
Specialists Mott MacDonald and MDS Transmodal have now been appointed to help drive forward the development of the strategy, supporting TfN in determining the size, role and likely growth potential of the freight and logistics industry in the north.
Once the baseline studies have been conducted, the partner consultancies will work closely with TfN to develop investment proposals and policy agenda which will support the sustainable development of this important sector.
Feeding into TfN's overall vision, this work will also help deliver a sustainable transport system, which supports business growth and job creation, while supporting carbon reduction.
By maximising the north's attractiveness as a place to invest in freight and logistics and increasing the value of exports across the region, this project will help improve the capacity and reliability of northern freight and logistics, contributing to the economy of the country as a whole.
The Northern Freight & Logistics Strategy will form part of the updated Northern Transport Strategy, to be presented to the Chancellor by the 2016 Budget.