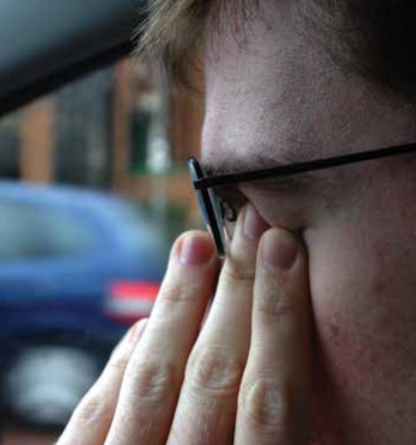 The DVLA (Driver and Vehicle Licensing Agency) has introduced new guidelines for drivers with obstructed sleep apnoea (OSA) – a relatively common condition that is often accompanied by tiredness and is known to significantly increase the risk of traffic incidents. It is estimated that 1.4 million people in the UK suffer from untreated OSA.
OSA occurs when the walls of the throat relax and narrow during sleep, interrupting normal breathing, and, in severe cases, can cause the individual to wake up hundreds of times a night without realising.
Long distance truck and bus drivers affected by sleep apnoea are of great concern as many will be driving on monotonous roads or motorways and the size and nature of the vehicle gives little room for error.
Professor John Stradling, a member of the OSA Partnership Group, said: "While awareness of OSA, and the very effective treatment available for the condition, has grown in the recent years, there is an understandable reluctance from those who rely on their driving licence to come forward for treatment.
"We understand that there is a natural caution if you think you might lose your job as a result, and therefore the OSA Partnership Group has been working with healthcare professionals to encourage fast tracked treatment for vocational drivers, and also with the DVLA to try to simplify the process of reporting to them."
The guidance provided for medical professionals on whether a patient should drive, and whether they should contact the DVLA is as follows:
If a driver is diagnosed with OSA, but does not have excessive sleepiness having (or likely to have) an adverse effect on driving, they may continue to drive as normal and do not need to notify the DVLA
If a driver has sleepiness that does have an adverse effect on driving, and it is suspected that they might have OSA, they should stop driving but do not have to notify the DVLA until the diagnosis has been confirmed. Once a diagnosis of OSA is confirmed, the driver must stop driving and must notify the DVLA. In this case, the OSA Partnership Group suggests this is done in writing rather than by email or phone
The treatment for OSA is very effective so, providing it is used correctly, by the time the DVLA sends through the paperwork to be completed, the driver has already been treated, and the symptoms have been resolved. In that case, the DVLA should not revoke the licence. Professor Stradling added: "Anyone who has excessive sleepiness due to OSA should be aware that they can get treatment."
You can find out more about OSA on the NHS website. Facts about driving and tiredness when you have a medical condition published by the DVLA can be accessed here.
FORS members are reminded that under FORS Bronze requirement 'D7 Driver fitness and health', fleet operators shall be proactive towards managing driver fitness and health. This is to ensure the safety of drivers and the public from occupational and lifestyle-related health issues.
FORS supports operators with a number of free-to-access tools, resources, and funded training.  These include the FORS Toolbox Talk, and the FORS Practitioner workshop on managing driver fitness and health (worth two and a half CPD hours). Members can also access the FORS Professional safety eLearning module Smart Driving which focuses on the basics of road safety and which also explores some of the more advanced techniques of concentration, observation and anticipation for drivers of all vehicle types.