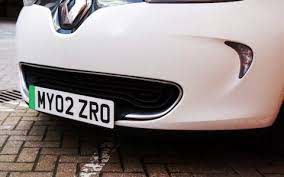 The government has announced the introduction of green number plates for electric vehicles across the UK from autumn 2020 under plans to drive a green economic recovery. This is part of the UK government's aim to achieve net zero emissions by 2050.
This announcement follows a consultation launched in November 2019 which invited comments from a variety of stakeholders and sectors on how best to introduce green number plates. The consultation outcome concluded that the scheme will be non-mandatory and will be available to new and existing eligible cars, vans, taxis, motorbikes, as well as buses, coaches and HGVs.
The new plate design will make it easier for cars to be identified as zero emission vehicles and will include a green flash down the left-hand side of both front and rear number plates. The new plates are aimed at helping councils and local authorities design and put in place new policies to incentivise people to own and drive zero emission vehicles going forward. Example of incentives could include drivers' access to local initiatives such as cheaper parking and cost-free entry into zero emission zones where those with a green number plate will be recognised as eligible.
In addition to these green number plates, the government has announced £12 million funding to assist with research into the zero emission market. This is aimed at helping to develop greener vehicles and help improve vehicle charging technology.
To read more about the results of the green number plate consultation, visit the GOV.UK website.