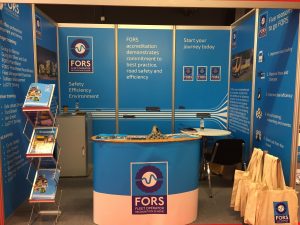 Want to learn more about FORS?
Throughout the year, FORS will be providing speakers and showcasing at industry exhibitions and conferences across the UK.
Come and visit us at one of the following events to find out about the latest FORS news, developments, toolkits, training and members only offers:
Tip-ex and Tank-ex Awards
Tip-Ex is the UK's only national event for the tipper, tanker and bulk haulage industries with more than 150 trucks on display in and around the Harrogate Convention Centre.
The 2019 Tip-ex and Tank-ex Awards and gala dinner will take place from Thursday 30 May to Saturday 1 June at the Royal Hall in Harrogate Convention Centre, with all major truck manufacturers, bodybuilders, tanker suppliers, tipper bodybuilders and tipping gear manufacturers taking part.
FORS will also be among the many exhibitors attending, so come along and visit us at stand CA3 to have a chat or ask any questions specific to your operation.
For more information on Tip-ex, click here.
The National Refuse Championships
FORS Director John Hix will be presenting the benefits of FORS accreditation at the National Refuse Championships.
The annual event is due to take place in Weston Super Mare on 14 and 15 June, and, is a celebration of the waste and recycling industry and the people which work in it.
The event aims to raise awareness and raise money for the Alzheimer's Society.
For more information on The National Refuse Championship, click here.
For more information on all upcoming FORS events, click here.