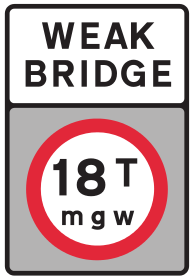 A temporary 18-tonne weight restriction on the A36 at Cleveland Bridge in Bath will come into effect from 1 January 2020 ahead of planned maintenance works later in the year.
The weight restriction will add 50 miles to journeys for drivers of vehicles exceeding 18-tonnes GVW. The bridge ordinarily offers a route from junction 18 of the M4 and the south coast. Those unable to use the bridge to cross the River Avon will need to either pass through the city centre or divert their journey to the east.
'Significant repairs' to the bridge are needed, which sees up to 17,000 vehicles a day. Even though maintenance work is not scheduled to begin until later in the year, Bath City Council says the temporary weight restriction is a necessary 'precautionary measure' in the meantime.
The bridge was originally constructed in 1826 for horse-drawn vehicles and pedestrians. Recent surveys, however, reveal that some structural parts have come to the end of their life and are in need of repair or replacement.
Bath & North East Somerset Council has submitted a funding bid to the Government's Highways Maintenance Challenge Fund seeking financial assistance to carry out the repairs and to make the bridge fully operational.