Milebay Consultancy Ltd
FORS Associate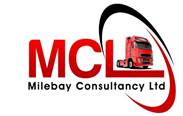 Covering the UK, Ireland and Europe we are an established transport compliance and Driver CPC training provider offering personalised, professional services to meet all your fleet transport operational needs.
Training
Chose from a variety of FORS, Driver CPC and over 15 transport related JAUPT approved training courses at our training centres, in a local venue or on your premises. Training is available 7 days a week.
FORS Standard and transport compliance services
Our experienced Consultants can provide start to finish support to achieve and retain your FORS Bronze, Silver and Gold Standard; as well as professional compliance services including Earned Recognition auditing.
Call our friendly team to find out more about DCPC training and for help with pre-audit preparation, personalised FORS Manuals, policies, risk assessments and Driver Handbooks.
Offers
FORS Member discount: 10% off all training and services

Over 15 JAUPT approved Driver CPC Courses to choose from.

Training available 7 days per week

FORS Bronze, Silver and Gold consultation services, bespoke manuals, policies, risk assessments and driver handbooks.

FORS Gold member and ISO 9001 accredited, the team at Milebay offer friendly, professional support to companies across the UK and Europe.

Valid until 31/12/2019
To display contact information and web links press the button below





5 out of 5 stars