J B Riney are a long established Civil Engineering company responsible for providing Highways Maintenance, Winter Maintenance, Street Lighting and Carriageway Surfacing amongst many other services. Stephen King, who is responsible for the Transport Operations, explains the on-going work involving PCNs reduction, cycle safety and vehicles: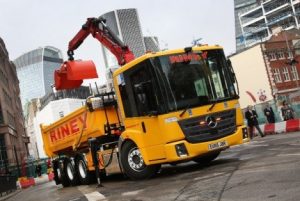 J B Riney provides Highway Term Maintenance Services for the City of London, Tower Hamlets, Waltham Forest and Royal Borough of Greenwich among others. J B Riney & Co Ltd is a long established Civil Engineering company who, over the years, has built an enviable reputation for reliability and quality workmanship. The company has been based in East London for over 30 years. Our head office is positioned in a busy part of London surrounded by super cycle highways, and due to this we have seen an increase in Cyclists in the area including the areas where we work – this is why we have made road safety a high priority.
J B Riney has been a FORS member since June 2012 after being awarded the City of London Highways Term Maintenance Contract. We gained Silver status in June 2013, obtained Gold status in June 2015 and have been FORS accredited for nearly five years.
Because of previous experience working with FORS we understand the Bronze audit process and are making arrangements to be ready for next year's renewal by holding internal monthly meetings dedicated to our FORS renewal.
We will continue to hold internal monthly meetings dedicated to FORS.
We are also constantly researching any new legislation that comes into force and we look at ways of how we can incorporate this into our company procedures and auditing process, monitoring and extracting information that we can tailor into the day to day running of our business.
''We are very proud of our modern fleet and the professional image of J B Riney is reflected in our clean and safe cycle friendly vehicles.''  – John Davis – Managing Director at J B Riney & Co Ltd
As part of on-going continuous improvements, J B Riney understands that training within the company is essential. All those that live and work in London are aware that there is a great risk for road users; this is particularly the case for the vulnerable category.
''We are a traditional, family based company who are constantly looking to upgrade our fleet to electric or alternative fuelled vehicles.'' – Stephen King – Transport Manager at J B Riney & Co Ltd
 J B Riney is continuously improving as a business – from successfully winning contracts to procuring the latest vehicles within the industry. This is due to the company constantly reviewing collected information within all sectors of the organisation.
All of our vehicles have had additional Safe Cycle signage added. Riney's has worked very closely with the City of London to implement Safe Urban Driver and Van Smart Training towards our drivers in continuing to maintain the company fleet and transport policy. We feel that the Driver CPC programme is crucial in raising awareness and professionalism amongst our drivers.
In partnership working with the City of London and Transport for London, J B Riney are trialling low entry vehicles on our fleet, and evaluate and provide constructive feedback. We have also introduced a traditional lorry with a modern twist. This vehicle has a passenger door fitted with lower window section – unlike previous high entry lorries, this feature enables the driver to physically see if anyone is directly next to the vehicle.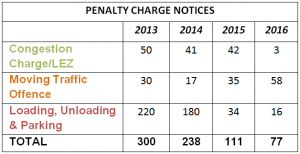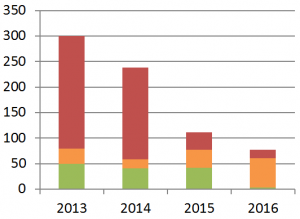 This is as a result of our Plant & Transport department monitoring the PCNs received very closely and ultimately passing the penalty notice on to the operatives at their own cost – usually deducted from their wages with mutual consent. This 'lessons learnt' approach seems to have had an immediate effect on our drivers and can be seen from the results above.
J B Riney has recently carried out individual fitness assessments on all staff (office and operatives) using an occupational health and wellbeing consultant. Going forward, this will be carried out on a regular basis to closely monitor staff health in the workplace. By closely observing our workforce we can reduce the risk of health-related incidents substantially, and at the same time look after our employees as well.
J B Riney has a great reputation for being a traditional organisation based in East London. As part of the company ethos, most of the staff are generally employed from within the local community. When searching for potential employees, the company has usually enrolled local talent recruited through local job centres and employment agencies in the surrounding areas.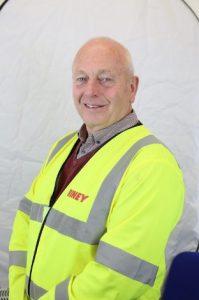 Local regeneration schemes such as the Greenwich Hill Project are another avenue Riney's have used as a strategy to encourage people towards the construction industry. This project has helped develop employment in deprived areas within the Royal Borough of Greenwich.
The company is heavily involved with local community events, such as being the main sponsor for Waltham Forest's Love your Borough Awards for the past five years. As part of the sponsorship, J B Riney annually place an advertisement in the local paper to attract local apprentices to work for the company. The HR Manager, along with our Business Development Manager, frequently attend job fairs at colleges within the community to help promote the apprenticeship scheme at Riney's. The company also liaise with local schools to help enlist school students as part of their work experience.
Being a traditional company, Riney's are actively involved within the local community. This can be through various activities such as sponsoring local sports events. An example of this is sponsoring the Tower Hamlets Mayors Cup. We also showcase our latest vehicles of innovative designs in the Lord Mayor's Show in the City of London.   As well as promoting brand awareness, J B Riney are also showing that we care towards the local community.
J B Riney constantly carries out noise monitoring in the workplace as part our Health & Safety regime. Regular assessments are carried out on working activities, plant use and vehicle movements to help reduce noise pollution.
Modern technology is constantly improving and understandably this includes commercial vehicles too. Alternative fuelled vehicles such as electric powered lorries are always being trialled by Riney's regularly. However, due to the high-power output required for commercial purposes, the existing technology isn't feasible for use on a day to day basis.
J B Riney has actively promoted road danger reduction through investing in low entry HGVs. The next step is to look at trialling alternative transport or electric powered vehicles.
Unfortunately, today's technology is not readily available for the construction industry. Currently, there are no vehicles which can meet our existing criteria – the travelling range is limited on vehicles and engine power is restricted for light goods use only. However, J B Riney will constantly monitor the market for new technology and continue to trial vehicles which could potentially be introduced to our fleet to lower CO2 emissions
At J B Riney, we are committed to all aspects of Health & Safety, and have also made road safety a high priority throughout our company. We will continue to train our staff, introduce all safety aids as standard to our new fleet, and are embarking on a replacement programme at present to include trials of alternative fuel vehicles.
Please note: All published FORS Gold case studies have been submitted by the accredited company named above and transcribed verbatim