Tideway
FORS Champion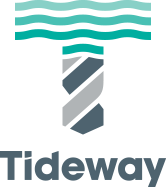 Tideway is the organisation delivering the Thames Tideway Tunnel, the 25 kilometre sewer tunnel needed to help tackle the millions of tonnes of untreated sewage that pollute the tidal River Thames in London every year. The main tunnel will run generally along the route of the river, from Acton in the west to Beckton in the east, and up to 66m deep. There are 24 construction sites along the route, which will connect to the tunnel and store and transfer the wastewater to Beckton for treatment. .
Construction is underway with a target date for completion of 2024, although there is an aspiration to finish the job up to two years earlier.
The tunnel is being built by three main works contracts joint ventures who are responsible for delivering the scheme over three geographical areas;
West Area: BAM Nuttall, Morgan Sindall and Balfour Beatty Group
Central Area: Ferrovial Agroman UK and Laing O'Rourke Construction
East Area: Costain, Vinci Construction Grands Projets and Bachy Soletanche
A Systems Integrator contract has also been awarded to Amey.
Tideway are transporting the vast majority of excavated material and aggregates by river and are undertaking to do more by river. There remains however a significant number of vehicle movements that will be needed to deliver and collect from Tideway's 24 main work sites, 11 of which have no direct river access.
Tideway is passionate about transformational health and safety and treats work-related road risk the same way it does any other risk associated with the works. Tideway are working with the industry, its Main Works Contractors and the supply chain, to explore opportunities for using HGVs that have better direct vision, such as glass-panelled near-side doors, and Low Entry Cabs.
Tideway is a CLOCS Champion and has applied and enhanced the work-related road risk clauses, including the requirement for its contractors and suppliers to be FORS members.
To display contact information and web links press the button below