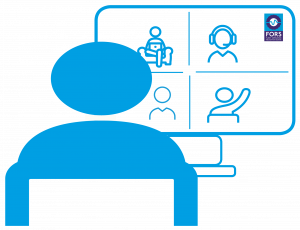 This year FORS is hosting a series of web-based briefings, which will act as a substitute for the usual face-to-face FORS Members' Regional Briefings in light of the current COVID-19 pandemic.
The free briefings provide an opportunity for members to get the latest updates from FORS and to ask any questions. Topics will include:
What FORS has done to support its members during the COVID-19 pandemic
Auditing and re-approval accreditation during COVID-19
Training and compliance
Postponement of version 6 of the FORS Standard
Changes to the FORS Community Partnership
The 1.5 hour briefings also include a Q&A session, enabling members to connect directly with a number of staff from the FORS team, as well as to hear from fellow operators.
The briefings have been running since August with additional dates added for November. The webinars start at 1pm. Presenters include Paul Grafton, FORS Compliance and Training Officer, Livia Gergely, Membership Manager, and Christina O'Keeffe, FORS Helpline Team Leader.  The August briefings were chaired by John Hix, FORS Director, with Paul Wilkes, FORS Business Services Manager, taking over for the remaining webinars.
Sonia Hayward, FORS Manager, said: "As FORS members know only too well, the last few months have translated into a lot of fast changes for businesses. The briefings provide an ideal opportunity for members, some of whom might have been away from business for a time, to catch up with the latest FORS information, especially in terms of (re)accreditation, audits and training. We look forward to interacting with as many members as possible."
To book your free place(s) on the free FORS Members' Update Briefings, click on the relevant date: