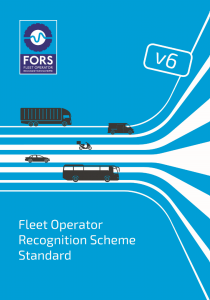 Did you know that the FORS Standard is being updated? Sign up for one of our webinars to find out more. Version 6.0 will be published in October 2021, for implementation in July 2022. This update is intended to be a pragmatic and incremental change from the current version 5.1 to be manageable by the industry during this particularly challenging period.
Version 6.0 has been informed through extensive industry feedback across a variety of platforms, including feedback from the FORS Helpline, detailed technical input from the Standard Review Working Group, and the wider Governance and Standards Advisory Group (GSAG), which comprises a range of key stakeholders and supporters of FORS.
A series of webinars is planned from Tuesday 19 October 2021 to explain the process undergone to update the FORS Standard, and to provide you with an overview of the changes at Bronze, Silver and Gold levels.
To register onto the FREE 'Introduction to the new FORS Standard Version 6' webinar, please click on the relevant date below: