FORS helps operators to save money and reduce environmental impact
With tough governmental targets on air quality, now the responsibility of local authority bodies and Clean Air Zones in place in major UK cities, environmental efficiency is now even more important for fleets operating in urban areas.
For commercial vehicle operators of all types seeking to secure contracts which stipulate proof of environmentally efficient operating standards, FORS is key. With a fleet's environmental impact encompassing far more than just emissions, there is a lot that can be done to make road transport smarter and greener.
Read on to see to see how FORS helps operators save money and reduce environmental impact.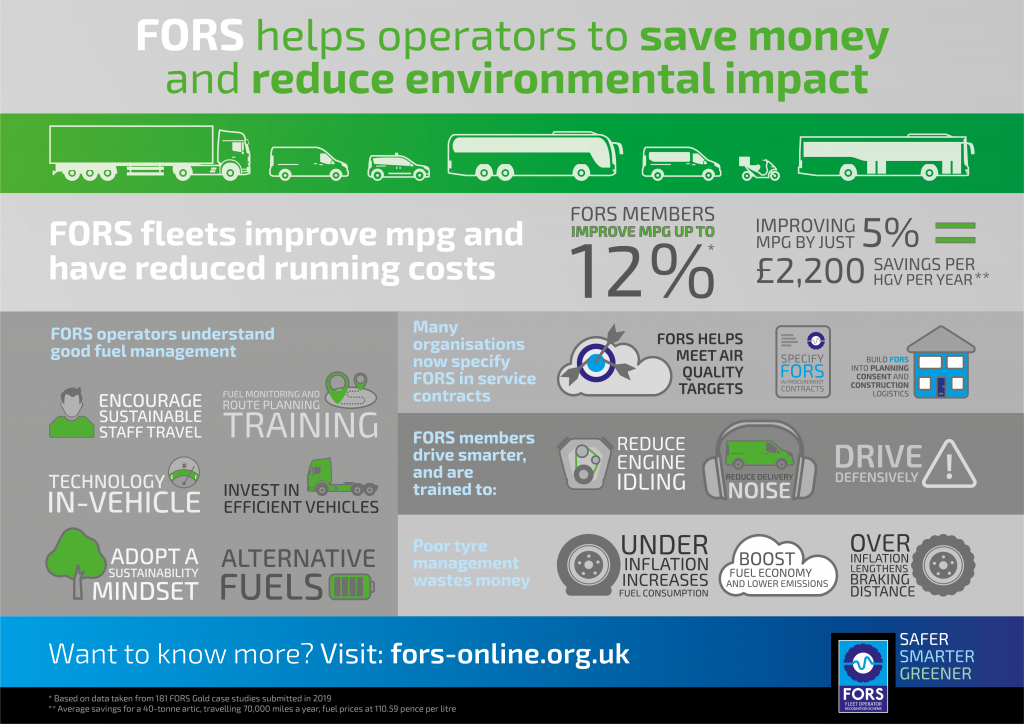 Click here to download a PDF version of the 'FORS helps operators to save money and reduce environmental impact' leaflet.
Data is king
Recording data is key for operators to baseline performance and identify where efficiency improvements can be made across a fleet. FORS members can use the FORS Fleet Tools data management portal to collate and record all fleet data to measure fuel consumption, emissions, fleet incidents, and therefore understand where efficiencies can be made. This data allows members to track their progress towards quantifiable efficiency gains, and actively make changes to their operation to achieve results.
Fleet care                                                                                           
Ensuring a fleet is in peak condition is vital for an environmentally sound operation. The FORS Fleet Management System (FORS-FMS), can be used to track fuel purchases, tyre tread and depth information and mileage figures. This data is then used to ensure fleets have an accurate service, maintenance and repair schedule in place to fix faults early, keep costs down and make sure vehicles are running as efficiently as possible.
Drive smart
Any fleet which operates in urban areas facing considerable traffic and stop start congestion needs to understand how to drive as efficiently as possible. FORS Safe Urban Driving, Van Smart, TruckSmart and LoCITY Driving courses are designed to help commercial vehicle drivers understand the most efficient way to drive in cities and urban areas. Drivers learn how to combat engine idling to reduce fuel consumption, emissions and inefficiency.
Tyres shouldn't cost the earth
Correct tyre maintenance and pressure will make a fleet more environmentally sound, with well managed tyres boosting the efficiency of an entire fleet and driving down fuel consumption and emissions.
At the entry level FORS Bronze audit, members are required to incorporate a tyre management policy across all vehicles.  To help, a Tyre Management Guide has been created, explaining how to form a tyre management policy, and a guide to fleet maintenance.
Fuel consumption
Tracking fuel consumption helps businesses reduce fuel use, save money and reduce its environmental impact. FORS Fuel Reporting part of FORS Fuel Expert fuel card offering, provides members with robust fuel consumption and MPG reports, considerable wastage can be identified and eliminated facilitating a greatly reduced environmental impact.
Future proofing
While it is a given that more modern Euro VI vehicles help operators achieve lower levels of fuel consumption and emissions, it is also a huge cost outlay.  This is against a backdrop of ever-changing emissions legislation.
FORS members are encouraged to have an eye on their vehicles future worthiness and required to undertake reviews of their fleet as they seek FORS Gold accreditation. If members need to modernise their fleets they can set out a timetable to achieve this and add emission improving products to existing fleet vehicles during the transition.
Noise awareness  
Noise pollution is a commonly overlooked form of environmental impact. The FORS Professional Managing Noise in Logistics workshop was created as part of the FORS Practitioner series of management development courses. The workshop seeks to help operators fulfil their noise assessment requirements, as required at FORS Silver, and understand appropriate delivery schedules to minimise noise in urban areas.
Always push for more
FORS progressive model means members are always seeking to do more to reduce emissions, fuel consumption and lessen environmental impact, as they move from entry level FORS Bronze up to FORS Silver and FORS Gold.
Based on data submitted from 138 Gold case studies in 2018, FORS members have considerable success in reducing emissions, with members reporting a remarkable 14 per cent improvement in mpg performance.