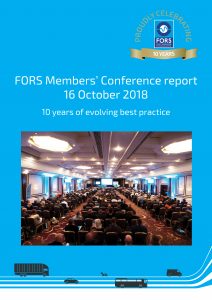 The third FORS Members' Conference was attended by over 450 delegates taking part in a day of dynamic presentations and lively interactive debate.
The event saw record crowds of FORS members from across the UK engage in a broad range of diverse speeches, celebrating the diversification of the scheme, as it continues to meet ever-changing landscape of the road transport industry.
Chaired by renowned transport industry expert, Brian Weatherley, the conference explored '10 years of Evolving Best Practice' and launched FORS latest Standard, version 5, outlining requirements operators must meet if they wish to attain and retain FORS accreditation.
Please access the FORS Members' Conference 2018 report here.