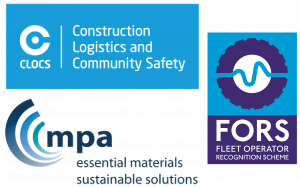 This interactive analysis tool provides a better understanding of the data about collisions between vulnerable road users (VRUs) and goods vehicles (GVs) – particularity those widely used in the construction sector.
Over 5,500 pedestrians, cyclists and motorcyclists were unnecessarily injured in a collision with construction vehicles* on Britain's roads in 2018 – over 28,000 in the last five years. In 2018 alone, 1,884 were killed or seriously injured. You can help prevent more trauma and cost.  
FORS, CLOCS and the Mineral Products Association (MPA) collaborated with Agilysis to allow members and the wider sector to interrogate the annual GB Road Safety Statistics published by DfT (latest is 2018) which are based on reports made on every road collision attended by the police.
*The most common construction vehicle body types have been identified to enable a refined filter of wider HGV and LGV data.
LOGIN to access Interactive collision analysis tool