FORS – ALIGNED TO OTHER SCHEMES
At Bronze level: FORS accredited organisations meet the requirements of the Safer Lorry Scheme (SLS). 
At Silver level: FORS accredited organisations meet the requirements of the Construction Logistics and Community Safety (CLOCS) Standard and TfL's own Work Related Road Risk requirements (WRRR).
The Safer Lorry Scheme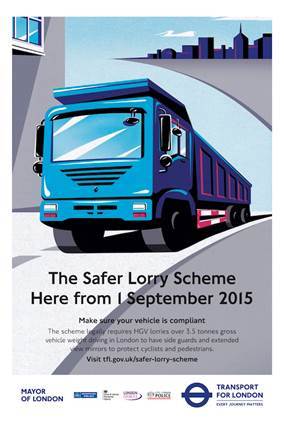 The Safer Lorry Scheme (SLS) was launched in September 2015 by Transport for London (TfL) in collaboration with London Councils and Heathrow Airport. The scheme is a traffic regulatory order for London which ensures that only trucks with basic safety equipment fitted are allowed on London's roads.
Under the scheme, vehicles over 3.5 tonnes that are currently exempt  from national legislation are required to be fitted with side guards and class V and Class VI mirrors.
The scheme will operate across London, 24 hours a day, seven days a week, covering the same area as the Low Emission Zone. For more details, please click here.
Under the Vulnerable Road User Safety requirement, V7, included in the FORS Bronze standard, fleet operators are required to ensure that all vehicles over 3.5 tonnes gross vehicle weight are fitted with safety equipment to help protect vulnerable road users – this is aligned with the SLS. In addition to not meeting the requirements of FORS accreditation, operators found to be operating without the SLS requirements within the defined area in London will be issued with a minimum fixed penalty notice of £50 increasing to up to a £1000 fine at the Magistrate's Court. The Traffic Commissioner, who has the power to modify or suspend operator licenses, will also be notified of companies operating vehicles in breach of the scheme
FORS operators are expected to demonstrate evidence that all applicable vehicles meet the V7 requirement. This can be done by filling in the evidencing template below, and supplementing this with evidence such as photographs and receipts.
Work Related Road Risk (WRRR)
WRRR requirements are a set of enhanced road safety standards that have been established for trucks and vans – they are a requirement of a number of new and existing contracts and apply to both contractors and sub-contractors.
There are a number of organisations that specify WRRR in their contracts. The requirements may differ slightly between organisations so it is important to check the specific requirements each of these companies for the sites you are specifically delivering to. Failure to comply with WRRR requirements could result in vehicles being turned away from site and can be considered a breach of contract, resulting in the contract being terminated.
For more information about WRRR, please visit the Transport for London (TfL) WRRR page. Please note that since 1 January 2017, TfL  refuses access to its sites for any operators not complying with their WRRR requirements.
Direct Vision Standard and HGV Safety Permit Scheme
The Direct Vision Standard (DVS) and safety permit for heavy goods vehicles (HGVs) requires all lorries over 12 tonnes gross vehicle weight to be granted a permit to enter or operate in Greater London. The scheme was created to improve the safety of all road users, including pedestrians, cyclists and motorcyclists.
Bronze requirement V6 and Silver requirement S6 for vehicle safety equipment were revised at version 5 of the FORS Standard to align with the DVS Safe System improvements for right-hand drive vehicles. This means that Silver and Gold members with right-hand drive vehicles that are zero-star rated, but fitted with ALL safety equipment in accordance with V6 AND S6, meet the safety requirements to obtain a permit and do not need to fit additional equipment. However, all FORS members operating vehicles over 12 tonnes, regardless of their level of accreditation, must still apply for the HGV Safety Permit in order to drive in London.
Please note DVS does not allow for a tolerance in the fitment of cameras for vehicles registered before 1 January 2015.
Operators can apply for Safety Permits through the TfL portal here. As part of your application, you will be required to upload two photos that show that Safe System measures have been fitted to the vehicle.
FORS Champions
FORS Champions are companies that specify FORS in their contract. To become a FORS Champion, please click here.