FORS works with local authorities to help improve the environment
With local authorities now responsible for meeting tough air quality targets, and Clean Air Zones and Low Emission Zones in place in many cities, the need for efficient road transport has never been greater.
As part of its remit to drive up standards across road transport nationally, FORS, the Fleet Operator Recognition Scheme, is working closely with local authorities and service providers to help reduce the emissions of all commercial vehicles.
FORS progressive accreditation is now being built into many local authority service contracts, giving councils a clear standard which all commercial vehicles operating on its behalf must meet. This ensures road transport supply chains are operating as efficiently and safely as possible.
Read on to see to see how FORS works with local authorities to help improve the environment.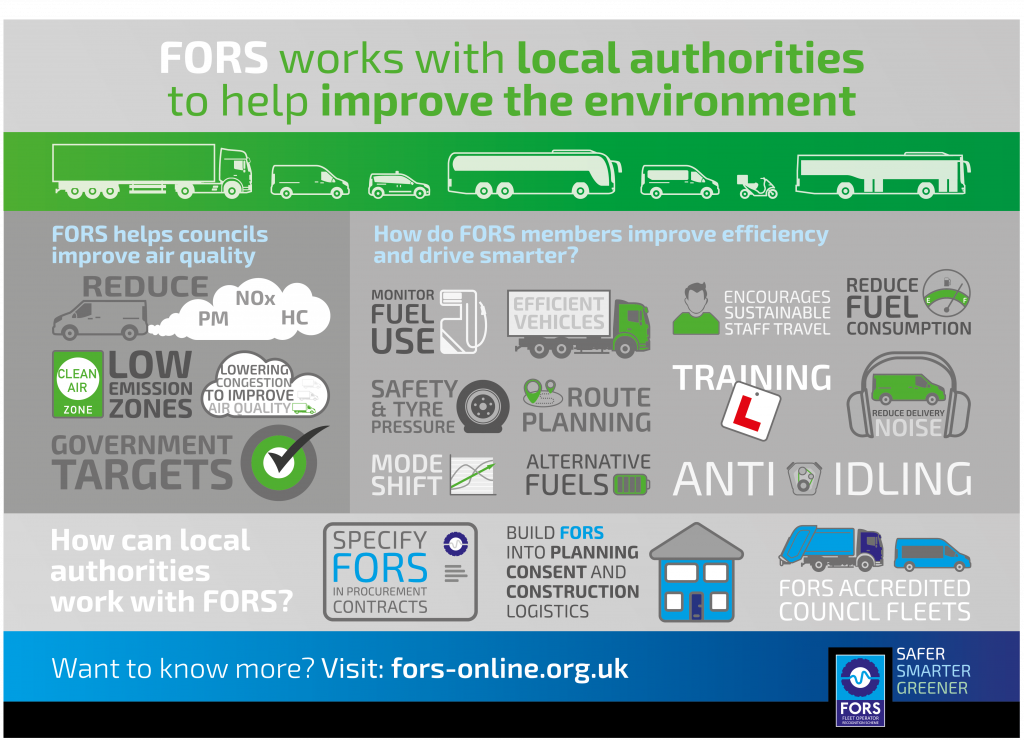 Click here to download a PDF version of the 'FORS works with local authorities to help improve the environment' leaflet.

Watch the video above on how FORS works with local authorities to help improve the environment.
Fleet care
Ensuring a fleet is in peak condition is vital for an environmentally sound operation. Local authorities have a duty of care to ensure operators working on their behalf do so in an environmentally efficient and safe manner. The FORS Fleet Management System (FORS-FMS), can be used to track fuel purchases, tyre tread and depth information and mileage figures. This data is then used to ensure fleets have an accurate service, maintenance and repair schedule in place to fix faults early, keep costs down and make sure vehicles are running as efficiently as possible.
Training
Commercial vehicle drivers who are trained to drive efficiently reduce their vehicle emissions. FORS offers dedicated driver training, including the FORS LoCity Driving course, where HGV and van drivers can understand issues such as how to avoid engine idling, one of the biggest contributors to urban pollution and avoid congestion. This also provides a financial benefit to the operator by helping them to save fuel.
FORS managers are also offered training to help them reduce fuel wastage. The FORS Practitioner workshop series includes a module on Reducing fuel use and minimising environmental impact, while the LoCity for managers eLearning online module looks at the use of alternative fuels.
All FORS members can access online resources to help lower emissions and embed environmental best practise across their businesses.  FORS Anti-idling Toolkit explores how drivers can reduce fuel use and its Congestion Toolkit gives tips on how managers can plan to avoid the amount of time drivers spend in traffic.
Tyre management
Tyre management is as key to efficiency as it is to safety. Under-inflated tyres can increase emissions of carbon dioxide (CO2) and nitrogen oxide (NOx), in fact for every 10 per cent of decreased tyre pressure, fuel consumption increases by two per cent. FORS members incorporate tyre maintenance into daily checks, with managers implementing proactive management plans to ensure all tyres are monitored, for maximum efficiency.
Fuel Management
Improving a vehicle's average miles-per-gallon by 5 per cent through a combination of driver training, route planning or fleet modernisation, can return savings of £2,200 per year. Over 300 FORS Gold members have achieved even higher improvement in miles-per-gallon with an average of 14 per cent year on year and with it even greater savings*.
FORS Fleet Management System and FORS Fleet Tools Portal, help members drive down the costs of running a fleet, highlighting areas of fuel wastage or areas where fuel consumption is high.
Flexible and simple
Local authorities can work with FORS in a variety of ways. FORS can be written into planning consent arrangements and construction logistic plans, specifying that suppliers operating delivery and servicing or passenger carrying vehicles must meet the FORS Standard. Local authorities who run or manage their own fleets can become FORS members themselves, ensuring all drivers and commercial vehicles in their fleet operate safely and efficiently – from minibuses and coaches to refuse trucks and vans.
To find out more about how FORS works with local authorities, and to get involved click on the following button: