All FORS Professional manager training is delivered remotely. 
FORS Practitioner is a series of 10 highly informative and insightful workshops that cover 
all aspects of fleet management

. Designed to assist fleet managers in their busy everyday roles, the workshops provide the tools you need to reduce road risk and environmental impact,

boost the performance of your transport operation and help meet the requirements of the FORS Standard

.
Attendance at the workshops
helps demonstrate your own Continuing Professional Development

 as outlined in requirements D4, S5 and G5 of the FORS Standard.
Each FORS Practitioner workshop is 2.5 hours. Discounted Practitioners workshops are available at £40+VAT per person. Those that complete all ten workshops are awarded FORS Practitioner status.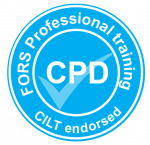 Attending a FORS Practitioner workshop is worth 1.5 CPD hours per workshop. Find out how to claim your CPD hours here. For more information about CILT(UK) CPD, please click here. 
---
FORS Practitioner workshops 1 – 10
Workshop 1 - Developing Fleet Management Policy
Workshop 2 - Managing Work Related Road Risk
Workshop 3 - Managing Driver Fitness and Health
Workshop 4 - Managing Driver Training and Development
Workshop 5 - Collision Procedures and Analysis
Workshop 6 - Safe and Efficient Fleet Management
Workshop 7 - Reducing Fuel Use and Minimising Environmental Impacts
Workshop 8 - Minimising Transport Fines and Charges
Workshop 9 - Measuring and Monitoring Road Fleet Performance
Workshop 10 - Managing Noise in Logistics
FORS Practitioner Recertification
---
Cost to attend, dates and links to book your place(s):
Funded and discounted places are available for FORS Practitioner workshops. Discounted Practitioners workshops are available at £40+VAT per person.
LOGIN to see available course dates
---
Cancellations
Please read the FORS Professional Training Cancellation Policy before booking your place and make sure you cancel within the correct terms to avoid being charged a cancellation fee.