To view FORS Practitioner workshop dates available for January to June 2018, please scroll down and click on the buttons "by workshops" or "by locations". You will then be able to access the booking system, or click on the green button to access the booking system directly. Please note you will need to be logged in to access these.

FORS Practitioner is a series of ten* workshops (scroll down to see details), open to all FORS members and covering all aspects of fleet management including managing work related road safety, safe and efficient fleet management, reducing fuel use and minimising fines and charges. These workshops are available nationally and you can attend one or all of the workshops, in any order.
Once you have completed all ten* workshops, you will achieve FORS Practitioner status – to date, there are over 900 FORS Practitioners. The ten workshops are designed to guide, educate and support you and your business helping you become safer, greener and more efficient.
*A new FORS Practitioner workshop Managing noise in logistics was recently launched. Please note that as of 1 January 2018 FORS members wishing to attain FORS Practitioner status must complete all ten Practitioner workshops. This new addition does not affect the status of current FORS Practitioners.
Under 'D4 Professional Development', fleet operators are required to identify and document the training needs of drivers and other staff involved in the fleet operation, as well as to implement a Professional Development Plan (PDP). FORS Practitioner is recommended professional development for all managers, trainers and supervisory staff. Though attendance to the workshops is not mandatory under D4, it should be considered for inclusion in the PDP for relevant staff. Also, under 'G6 Professional Development', fleet operators shall ensure that all operational staff within the organisation undergo approved progressive training and continued professional development. FORS Practitioner will help operators meet this requirement.
To view the dates available for January to June 2018 by workshop name or location, please use the buttons below. Please note you will need to be logged in.
LOGIN to see available course dates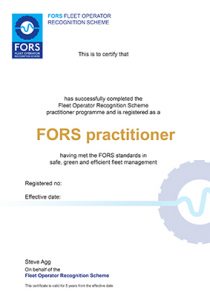 Workshop 1 – Developing fleet management policy
This workshop highlights the importance of policies and shows you how to identify when new policies are needed or existing policies within your organisation need to be updated. You will also learn how gather information for and write detailed policy documents.

Workshop 2 – Managing work related road risk
During this workshop you will develop your risk management procedures to manage work related road safety. The workshop will show the legal and regulatory responsibilities you have and the importance of risk management and record keeping.
Workshop 3 – Managing driver fitness and health
This workshop will show you the legal requirements for managing driver fitness and impairment. You will learn to identify the signs and understand the causes of lack of fitness and impairment and how to develop the appropriate procedures to address them.
Workshop 4 – Managing driver training and development
This workshop highlights your legal responsibilities in managing driver assessment and training and supports you in developing a plan. You will learn how to assess the outcomes of training and evaluate its impact to ensure your training plan is successful.

Workshop 5 – Collision procedures and analysis
In this workshop you will learn the principles of investigating, recording and analysing collisions and how to develop your post collision procedures. You will learn to interpret data enabling you to put remedial actions in place to further improve safety.
Workshop 6 – Safe and efficient fleet management
Following this workshop you will be aware of the legislative requirements relating to vehicle roadworthiness and be able to develop audit procedures and internal management systems to ensure efficient management of your fleet.

Workshop 7 – Reducing fuel use and minimising environmental impacts
By attending this workshop you will learn about the impact freight operations have on the environment and what action you can take to reduce fuel usage and how you can monitor your own environmental impact.

Workshop 8 – Minimising transport fines and charges
This workshop will introduce you to the FORS PCN tracker, which is used to monitor road transport fines and charges. You will also learn what other methods and policies you can implement to help reduce the number of PCNs and FPNs you receive.

Workshop 9 – Measuring and monitoring road fleet performance
This workshop covers benchmarking and its part in continuous improvement. You will learn which KPIs to monitor and how to use an appropriate benchmarking system to measure operational performance.
Workshop 10 – Managing noise in logistics
Following this workshop you will be able to establish and understand the importance of noise on the environment and who is affected both inside and outside of the operation. You will also learn the positive and negative outcomes from transport and delivery noise and how to assess, develop and implement a noise assessment into practice. This workshop will help operators seeking to meet requirement G8 Noise assessment.

Cancellations

FORS will accept cancellations notified 5 or more business days prior to a funded FORS Professional course however cancellations made less than 5 business days prior to any event or non-attendance are subject to the following fees:
• Funded Half Day Event Cancellation or Non Attendance Fee – £40 + VAT
• Funded Full Day Event Cancellation or Non Attendance Fee – £80 + VAT
Please read our Cancellation Policy and by registering for a course you are agreeing to its terms.