Funded training: the theory part of Van Smart (VS) training is currently delivered remotely. Driver CPC hours will not be awarded for attending VS remotely with the practical on-cycle element at a later date.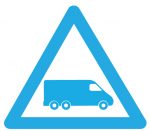 Van Smart aims to reduce work related road risks, improve safety and create long-term behavioural change in the van sector.
Van Smart training (delivered as classroom and on-cycle on the same day) is Driver CPC accredited and fully aligned to meet the requirements of:
FORS Silver
Work Related Road Risk (WRRR)
Construction Logistics & Community Safety (CLOCS) Standard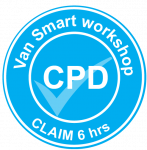 Attending Van Smart (delivered as classroom and on-cycle on the same day) is worth 6 CPD hours. Find out how to claim your CPD hours here. For more information about CILT(UK) CPD, please click here. 
Theory content:
The changing streetscape and the urban environment
Vulnerable road users and sharing the road safely
Defensive driving techniques and understand vehicle safety equipment and how to maintain its effectiveness
Practical content:
Exchanging places, driver attitude and perception
Introduction to active travel, driver fitness and health
Hazard recognition: understanding the issues faced by vulnerable road users
In London, vans account for 80% of all road freight mileage. 10% of road traffic incidents involve a van and 11% of these incidents result in serious injury or fatality. A DVSA (then VOSA) report revealed that many vans fail their MOT first time and 89% of those stopped were found to be overweight.
Components include:
A driver handbook– covering everything a van driver needs to know about how to be a safe, professional and courteous driver. This handbook is the takeaway from the Van Smart driver training course
Tools for managers – essentially a 'How to' guide for fleet operators and transport managers to help implement the Van Smart programme. The tools includes guidance on recruiting safety-minded staff, improving driving standards and running internal safety campaigns. It also includes Van Smart tools such as toolbox talks and awareness posters
A Competency Framework – this underpins the whole programme and defines what competencies van drivers need to have, what they need to do, and when and what behaviours they should demonstrate
Toolbox Talks – six driver briefings that promote informal discussion with the workforce. Each one focuses on a particular safety issue and mirror the key messages of the Van Smart training programme
Poster Set – a series of posters that visually communicate the six key messages of the Van Smart training programme
Van Smart driver training course
A modular Driver Training Course – an assessed and approved, professionally facilitated training course for van drivers comprising of both the theory and practical (on-bike) modules.
LOGIN To book a place(s) on a funded Van Smart course