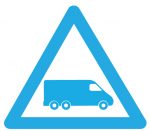 Van Smart is a Transport for London (TfL) backed driver training programme that aims to reduce work related road risks, improve safety and create long-term behavioural change in the van sector.
Van Smart is delivered in two sections, a classroom theory module and a practical cycling module, where van drivers experience a cyclist's view of the road. The two modules are delivered on the same day, and courses are run around the country by a number of training providers.
Van Smart Training is DCPC accredited and fully aligned to meet the requirements of:
Work Related Road Risk (WRRR)
Fleet Operator Recognition Scheme (FORS) Silver level
Construction Logistics & Cyclist Safety (CLOCS) Standard
In London, vans account for 80% of all road freight mileage. 10% of road traffic incidents involve a van and 11% of these incidents result in serious injury or fatality. A DVSA (then VOSA) report revealed that many vans fail their MOT first time and 89% of those stopped were found to be overweight.
LOGIN to access the Van Smart training materials