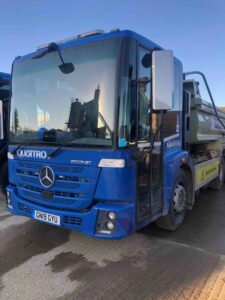 Quattro (UK) Ltd is based in Horn Lane Acton, with depots in Southall, Iver, Gerrards Cross and we supply vehicles for waste management, recycling, supplying aggregates and ready-mix concrete to the construction industry and utility contractors in West London and surrounding areas. Eamon O'Loughlin, Managing Director, explains how Quattro (UK) Ltd has achieved significant improvements through FORS (our fuel usage has increased due to amount miles covered so our CO2 emissions, NOx and Particulate Matter emissions have increased too. However, our MPG performance improved by 15% since 2018 included our road safety record, decreased transport related fines and charges.
We came across FORS shortly after its inception, we were eager to sign up to the scheme as we wanted to show our commitment to road safety best practice working on many projects that endorsed the scheme.
Quattro (UK) Ltd were accredited to ISO 9001 & 14001 standards before we joined FORS so we were prepared for our Bronze audit and passed it first time.
Once we were Bronze accredited we looked at progressing to Silver and Gold. We wanted to prove to ourselves that we have the processes in place to achieve Silver and Gold. We also wanted to demonstrate to our commitment to road safety and the environment.
The benchmarking required to meet the FORS standard was invaluable for our organisation, we focused heavily on management and driver training to increase our road safety record and reduce our environmental impact. This helped us reduce costs on both fuel and insurance along with avoiding PCN's. When any PCN is received it is always challenged.
FORS helps us to monitor all our systems and processes – Eamon O'Loughlin Managing Director

FORS helped us look at our company from a different perspective – Pardeep Panesar HSEQ Compliance Manager
These shall include:
Since 2018 we have improved our MPG performance by 15%, the number of incidents and PCN's issued have also decreased. However, CO2, NOx & PM10 have increased but this is due to great distances covered due to the expansion of our operations.
| | | | | | | | |
| --- | --- | --- | --- | --- | --- | --- | --- |
| | MPG | Incidents per 100,000 Kms | CO2 | NOx | PM10 | Number of PCNs | Proportion of fleet that uses alternative fuels |
| 2018/2019 | 4.46 | 15 | 835 | 877 | 13.33 | 17 | 0% |
| 2019/2020 | 5.06 | 4 | 2801 | 3304 | 50.38 | 30 | 0% |
| 2020/2021 | 5.14 | 4 | 3720 | 4437 | 68.72 | 8 | 0% |
| Percentage improvement | 15% | 94% | -78% | -80% | -81% | 27% | 0% |
Several years ago we introduced driver medical questionnaires and health declaration to make drivers aware of conditions that could affect their ability to drive HGV's. As a backup to this we also set up facilities with an external company to undertake medicals of our staff to ensure their wellbeing. We actively encourage our staff to discuss any medical or mental health issues in the strictest confidence with management.
We advertise for drivers on our company website and some commercial websites. We have signed up with agencies that supply ex-members of the armed forces. We have put some of our employees on HGV driver training courses and fully paid for by the Company. We also encourage our existing drivers to be on the lookout for potential drivers especially those who would like a career change on the open road. We are acutely aware of the current driver shortage and actively look after the interest of our workforce.
All our operating centres and workplace facilities are in designated industrial areas away form noise sensitive locations. Workplace noise risk assessments have completed at all our depots to ensure that safety of all those involved. Some of our customers have sites are in noise sensitive areas and we comply with all their requirements and always ensure that the drivers are aware of the site instructions.
Modal shift and alternative vehicles – We have a planning application submitted for one of our operating centres based in a yard that has railway sidings which is operational. We have explored the use of electric vehicles and the ones currently available are not practicable for our operation
Our plans for the future is the same as previous years, we will stay at the top of our profession by demonstrating our commitment to road safety and reducing our impact on the environment. Due to new emissions standards, we only purchase new vehicles as these are less toxic and we are 100% behind lowering emission as cleaner air benefits everyone. We have also purchased vehicles with cabs that meet the Direct Vision Standard. 
We sponsor several events annually and attend award ceremonies where we place adverts in the event programme. The FORS logo is proudly displayed in all of our adverts place in the programmes.  The FOR logo is displayed on our website, official company paper, email signatures and on all our vehicles.
FORS Gold status demonstrates our commitment to vulnerable road users, road safety, the environment, our customers and the public. Through a combination of eLearning, classroom workshops, and FORS Practitioner workshops it gave us the tools to constantly monitor, improve upon and quickly identify issues. It also portrays us as a highly professional organisation within our industry.
Website: http://www.quattroukltd.co.uk
Instagram: https://www.instagram.com/quattroukltd/